Ahhh, vacation knitting
The joy of a week-long vacation! Plenty of time to relax with family and knit. We just got back from a week in Seattle, where we stayed with my sister-in-law. My brother-in-law (her brother, not her husband) lives there too, and had the whole week off, as he was inbetween jobs, with a new one starting on Friday.
So, we saw all the sights that Seattle has to entice a 2 year old - the zoo (fantastic - the animals live in spacious "habitats" with other animals from their natural ecosystem), the aquarium (undergoing renovation/expansion, but still full of fish and small marine mammals), the Children's Museum, Snoqualmie Falls and
Twede's Cafe
, and lots of just hanging out in Queen Anne, where SIL lives. DH got all the coffee he could drink, and I checked out the LYS -
Hilltop Yarn
. Audrey liked the otters best. Our last night we went to Sam's Sushi in Ballard, then to a Cupcake restaurant for dessert. Imagine, a bakery that only sells cupcakes! They were delish; I had a chocolate cupcake with orange-cream frosting.
What, you don't know about Twede's Cafe? That's the diner from Twin Peaks where Special Agent Dale Cooper liked to get a piece of cherry pie and a "Damn fine cup o' coffee". We stopped there for lunch of July4th after visiting the Falls.
Hilltop Yarn was not all I remembered it to be the last time I was there. Perhaps because I spend much more time in LYS's now than I did a few years ago, it just didn't seem as big as it used to. They had a nice selection of luxury yarns I had not seen before in person though - Hand Maided Sea Silk (so soft!), Alchemy (so pretty!) and Lorna's Laces sock yarn. Due to my recent binge at a local sale though (not to mention the prices of the Sea Silk and Alchemy), I left empty-handed.
But, in between all this sightseeing, I knitted. Oh, did I knit! I finished a sock in 4 days! I put another 6" on the front of the Lucky Tank! It's amazing how much more you can get done when you don't have to go to work.
Here's the sock: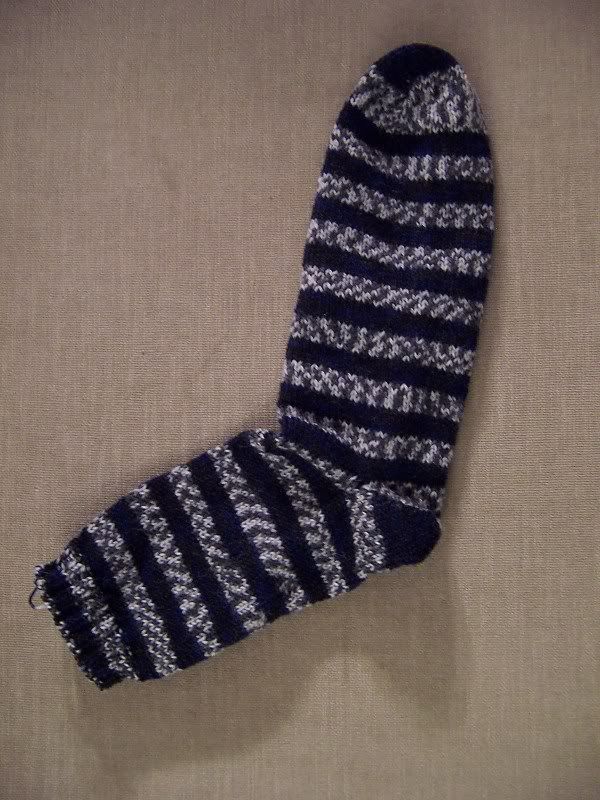 It's a bit, umm, stripier than I was expecting. But it fits well and looks like it will be nice with jeans next fall and winter. Looking at the skein, it was not so obvious how bold the stripes would be. The yarn is Regia.
And, here is the progress on the Lucky Tank: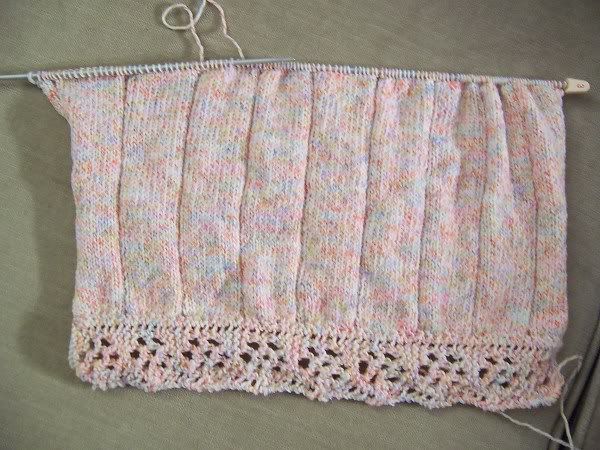 Also moving along nicely.
Perhaps another week to go?