Black sheep, black sheep
Have you any wool?
Yes, Sir. Yes, Sir.
Three bags full!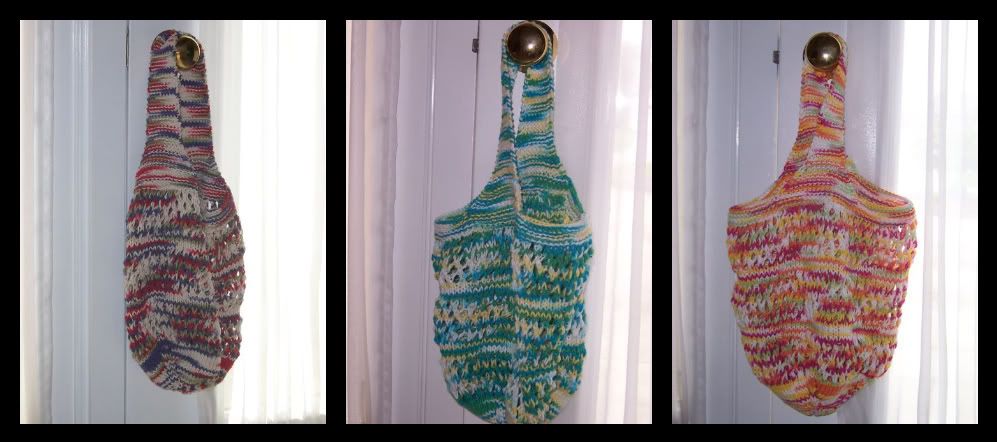 The
Grrlfriend Market Bag
by Laura Spradlin, with modifications by
FrozenFlame22
, knitted up in triplicate for my daughter's three wonderful kindergarten teachers (One teacher, two assistants). Can you believe she's done with kindergarten? I can't!
They are a quick and easy knit - about 4 evenings per, and take 2.5 skeins of regular size Lily Sugar and Cream, or just under 2 skeins of the Super Size skeins. Cute colors and so easy!
Just finished up a shawl with my Optim handspun - haven't figured out how to photograph a dark multi-colored lace shawl. What color background and lighting would be best? Any ideas?
And now a bit of stash-busting - a breezy summer tank for Audrey with the KnitPicks Shine Sport in Hydrangea left over from the 2008 baby blanket for Nancy's daughter. After that - some fiber stash-busting during the Tour de Fleece, and some sock stash busting over vacation (are we sensing a theme here?). I could theoretically knit to the end of the year from only stash and yarn spun from stash, but I'd be mostly limited to socks and lace. I don't think I'll do it, but I would like to make a good dent before I fall in love with any sweater patterns for the winter (which would require new yarn - I don't have any sweater quantities of anything good in stash. For me at least. Audrey's going to be wearing a lot of vests this fall. Yeah, I wish.)
So now, back to Star Trek and the tank top! I'd like to finish it up before the Tour.