Warm surprises on a winter weekend
The weekend before last was full of surprises!
First, I was surprised to find a box on my doorstep – I had not ordered anything, nor had DH.
Return address –
Virginia
.
I looked inside and found this!: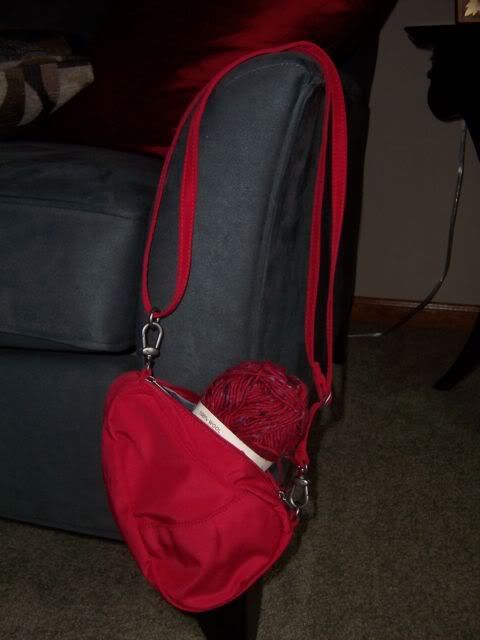 No note, but I suspected Clarsah (and confirmed by email) – my upstream SP from the last KnittySP round – from the initials on the box and the return address. How nice is that?! Two balls of Debbie Bliss Aran Tweed in warm cozy red – just the thing to warm up this bitter Ohio weather we've been having. And they were packed in this adorable bag – it looks tiny, but had two outside pockets, two inside pockets and a key loop. Plus the strap is adjustable from shoulder bag to across-the-chest length. I think it will be perfect for those get-out-your-money-frequently trips to the farmers market or (cough) fiber festival (cough cough).
And Friday night – a TV star stopped by our dinner table! And not just a TV star – an Iron Chef! We went to Bar Symon for dinner (Michael Symon's new casual restaurant in Avon Lake) with Audrey and he was there eating and making the rounds. He asked Audrey how she liked her grilled cheese – thank goodness she said "good"! She really didn't comprehend who he was – her TV viewing habits are limited to PBS and the occasional Nickolodeon show with a babysitter. We told her he was the guy who wrote the new cookbook Daddy got for Christmas – that seemed to ring a bit of a bell. But, she was clearly underwhelmed. DH and I were completely geeked out though! I mean, sure, lots of restaurants send the owner/chef/manager around to ask how the food is, but how many of them are IRON CHEFS? Too cool. I watch way too much Food TV. I think I saw Guy Fieri in the Chicago airport once too.
Anyhow, if you are near the west side of Cleveland, go there to eat! We've been three times now and everything has been awesome, from the beer list (extensive) to the side dishes (mmm, bacon. Remember I said everything is better with bacon? He uses it in many dishes). Favorite main courses (so far) are the mussels, the grown-up mac-and-cheese (rosemary, chicken, and goat cheese) and the fried chicken. Which is like, half a chicken. So you get it for lunch the next day too. It's kid-friendly – no printed kids menu, but the wait staff can recite the 4 kids items they make (hot dog, grilled cheese, mac-n-cheese, and chicken strips). Bring crayons and your own paper to color on.
And in knitting, I finished the Sparkling Elves socks: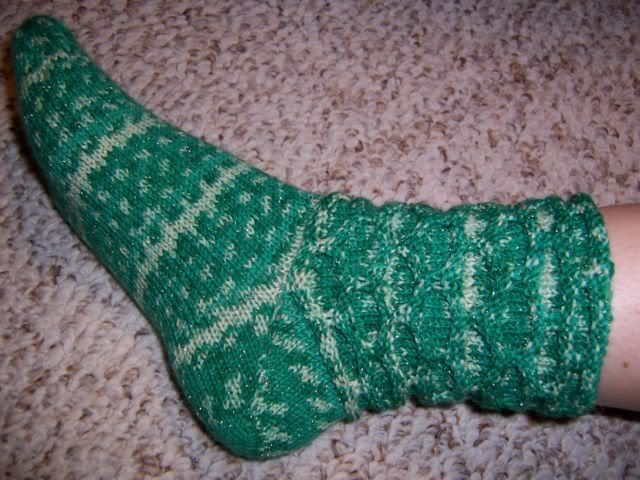 Shiny. Not something I usually say about socks, but well, if the shoe (or sock) fits…
New project: the Scoop Pullover by Cathy Carron.

I'm using the Reynolds Rapture I got on clearance last summer.

I made a little mod to the set up round for the sleeves so the sleeves would be symmetrical (can't find an errata for this – is it really supposed to be asymmetrical?).

Instead of *p2,k2* all the way across the shoulders and back, I did k1,*p2,k2* p2, k1.

I'm making the smallest size, with an extra 4 stitches in the back.

Should work out to around 2" negative ease – the next size up would have had 3 inches