Introducing Ellie
Here she is! Unfortunately, she thinks the other elephant is a bit of a doofus too. He's still lonely.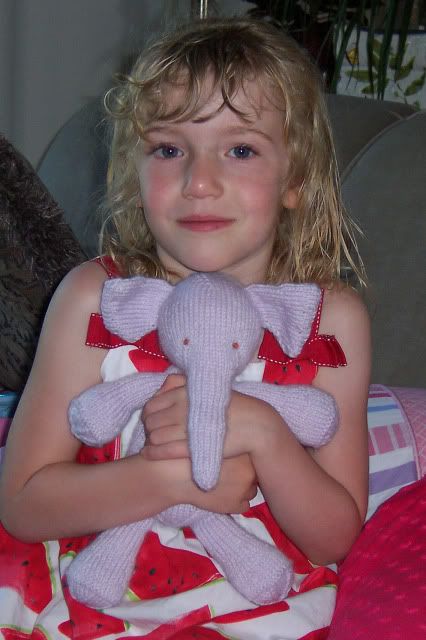 Pattern:
Elijah
Designer: Ysolda Teague
Yarn: Universal Yarns Bella DK, color 08
Needles: US3
Began/Finished: June 8, 20th 2009
DH is getting ready for another trip to Singapore - my plan is to finish off July with spinning only, recharge my knitting batteries. I finished my Twilight Tank yesterday - it's blocking now upstairs.

The last day of our "vacation" is tomorrow - boy this one didn't go as planned. DH and I spent last Sunday and Monday down in the Finger Lakes doing the Cayuga Wine Trail Sunday and hiking the Taughanock gorge and Watkin's Glen gorge trail Monday. We returned before dinner to my parents house Monday to find Audrey on the couch with at 103+ degree fever. After 3 hours at the Urgent Care, we left with a prescription for Tamiflu and instructions to keep her isolated for 7 days. So we cancelled the Canada and Michigan portions of the week, and returned to Cleveland. Primarily so that if DH or I got sick, we wouldn't be hostage to the way-out-of-network urgent care in Rochester. So far, neither of us has fallen sick, and Audrey has been symptom free since mid-Wednesday. She had a very mild bout of the flu. We've spent a quiet week at home, doing assorted crafts and reading lots of books. On the plus side, I got lots of daytime knitting time in.