FO!
I finished the Child's Guernsey and Hat, from the Paton's website, with the intention of reducing the amount of yarn in stash. Except that I bought 2 skeins of Paton's Classic Wool Merino to make the sweater (not pulled it from the stash), thinking if I made a size 3T, I could finish the sweater in 2 skeins, then ran out of yarn just before the end (10 rows left in sleeve 2, and collar), so I had to buy a third skein. So while I did make a nice sweater and hat for charity, the net effect on my stash was 1 mostly full skein ADDED, none subtracted.
It's my first project with Paton's Classic Wool Merino, and probably my last. Just not loving it. And it bled a lot when I washed it.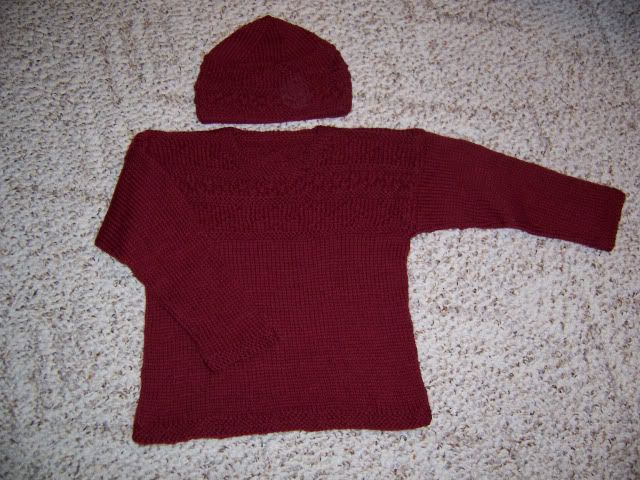 Yarn: Paton's Classic Wool Merino
Needles: US 5 and 7
I'm cranking along on the child's fair isle sweater, until I got to the sleeves. I discovered I don't own US9 dpn's. Can you believe it? I can't. But, if I own them, I can't find them. Another charity project that ADDS to stash (new needles) instead of reducing. On the other hand, I have enough Lambs Pride to make two of these, so that should do some good towards making more room in my yarn box.
Getting ready to go out of town for a few days, need to pick a good plane project. Hmmm. I just bought Cookie A.'s "Sock Innovation", but I don't think I've got appropriate sock yarn. I could start Eastlake, but I'll need to swatch before I leave, so I bring the right needles. Not sure. I've got til Sunday morning to decide.
Almost done with the Dovetail Sweater! If I can finish the second sleeve before Sunday (and I think I can), that would free up my favorite size 8 needles.
Got to go!