Catching up in the New Year
Phew. Well, the holidays are over and life is returning to semi-normal around here. Semi-normal meaning that we are back to work, and Audrey is back to school (first week back not going to well in the mornings). DH is headed to the other side of the planet for a couple of weeks both this month and next (ugh), leaving me to my own devices.
Serenity was well-received at the baby shower. The mom-to-be got several handmade blankets actually, 3 crocheted, and 1 knit (mine). I have to say (with only a little bias) that mine was by far the nicest (just my opinion of course). I finished Serenity in a record short time – only 2 weeks to knit the whole thing. I didn't take it with me for Thanksgiving, hence the three week total project time. Just bound off and blocked when I got home. It took much less yarn than I expected – 7.5 skeins of KnitPicks Shine Sport. I swatched a whole ball (leftover from Audrey's summer sweater a couple of years ago), figured out the area in square inches, calculated the area I needed to make a 32x32" blanket, and ordered 12 balls of yarn (rounded up from 10 to 11, order one extra to be safe). Will I have enough for a lightweight sweater for Audrey? Not sure. Maybe I'll order a couple of balls in a contrasting color and make something a little stripey for one of us.
Here's a few pictures of the blanket – this is one of my favorite blanket patterns now. So pretty! The color is "hydrangea" – exactly the color of blue hydrangeas, and coincidentally, the same color the mom-to-be painted the walls in the nursery. Score!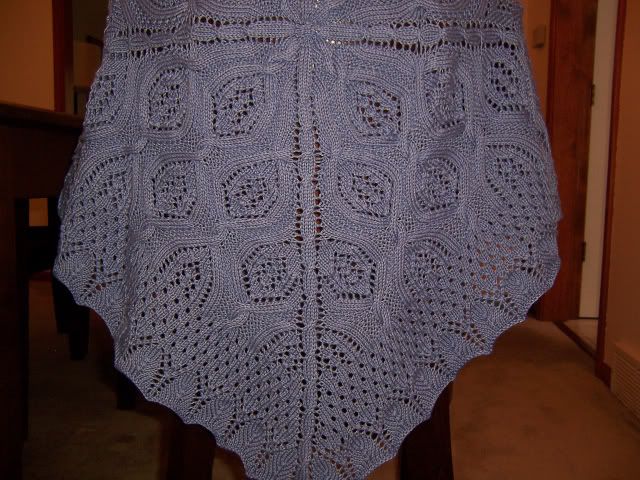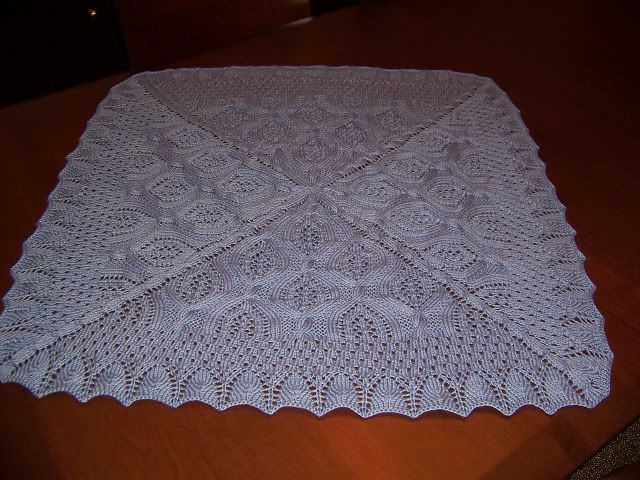 Pattern: Serenity
Designer: Laura Wilson-Martos

Yarn: KnitPicks Shine Sport, Hydrangea, 7.5 balls
Needles: US 6
Mods: none