My mom went to a fiber festival!
I can't believe it! My mom, who couldn't knit her way out of a wet paper bag, went to the Finger Lakes Fiber Festival last weekend. 4 days before her knee surgery (she's doing fine).
I have not yet made it to
any
fiber festival, in any state, because we are always somewhere else when the local festival is taking place. I miss the Great Lakes festival in Wooster, OH every Memorial Day because we're always in Rochester visiting my folks. I miss the Finger Lakes festival in Hemlock NY because we are inbetween our summer and fall visits to my folks (we usually go up around Columbus Day too), and I miss the Michigan festival near my inlaws because we are up there either too early or late each summer as well. I just can't get it coordinated.
Sigh. Next fall for sure, I'm going to New York.
Michelle said her daughter LOVES Elijah - carries it everywhere! Woot - a happy recipient of a handknit item! Always makes you feel good.
Finished up two quick (!) projects that I started in July. Worked straight through, each took only a couple of days. Interrupted by a sweater, baby blanket and elephant, well, they take a little longer.
First up: Evangeline.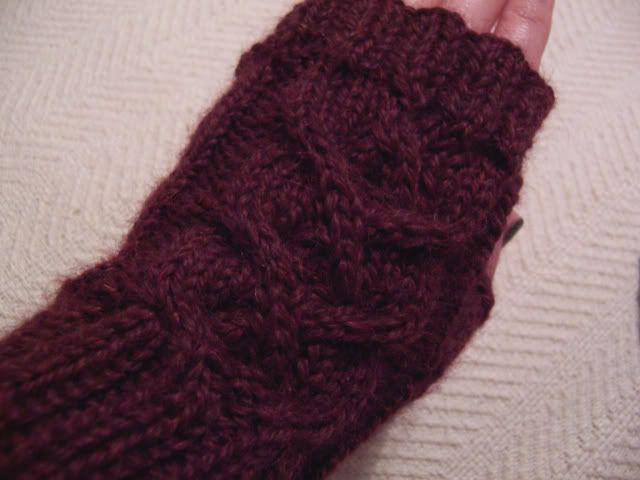 Pattern:
Evangeline
Designer:
Michelle Szeghalmi
Yarn: Mirasol Miski
Needles: US6
Time to complete: about 3 hours per glove
Alterations: added thumb gussets, made wrist a little longer than in the pattern. Used 52 g yarn (just a skosh over 1 skein).
I love this yarn. Just love it. It's the softest thing ever.
Next up: Treenah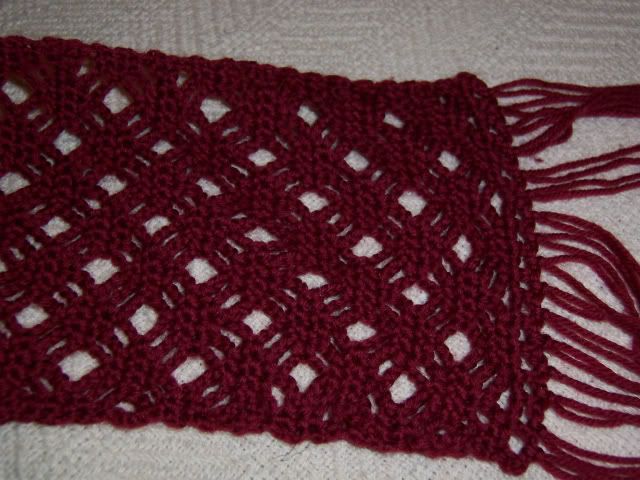 Pattern:
Treenah
Designer: Megan Marshall
Yarn: Knit Picks Essential in Burgundy
Hook: D
My first crochet project! Don't worry, I'm not giving up the needles. I was very pleasantly pleased to see that crochet can make lacy stuff - I'm used to the sc/dc afghans of my youth. Pretty!