And then we walked through a bog
From Patterdale we crossed to Thirlmere, and from Thirlmere on to Grange on Borrowdale. In Thirlmere, the best of luck. Our B&B was tiny - just two rooms. At most B&B's, there are 4 - 5 rooms, and the breakfast room is set up with 4-5 tables for 2, one per room. Should you be traveling with another couple, they will pull two tables together for your group, but generally speaking, you are not required to socialize with strangers before your morning tea (or coffee). But Thirlmere was two rooms in the owners home. So we (all four of us) sat around the dining room table for breakfast.
The other pair that morning were two chaperones for a group of youth completing the trekking portion of the Duke of Edinburgh Award, sort of a co-ed version of Eagle Scout for young adults in England, from what we could tell. They asked us about our hike for the day. We had two options, we told them - 7 miles, crossing High Tove, or 13 miles, going over Brea Tarn. It was raining, and we weren't really up for the 13 miler. Oh no, they told us. You don't want to cross High Tove today. It's the boggier route even on a dry day, and it's been raining for several weeks now. If we wanted to wait around for another hour, they would be back this way after checking on their charges, and they would give us a lift in their van to the end of the lake. That would take 7 miles off the hike, and we could cross at Brea Tarn.
We accepted, and later, as we sank into the not-so-boggy ground around Brea Tarn up to our bootlaces, were so thankful we had met this pair. It's hard to believe High Tove could be any boggier than this, but later we met another hiker who confirmed the bog of High Tove - he was hiking with two friends last year, and one had sunk up to his KNEES in the bog. It took the two non-sunk friends to pull the first one out. What the hell would we have done if DH had sunk up to his knees? I don't think I would have been able to pull him out myself, and most days we saw few, if any, other hikers.
The rain finally stopped in Grange before dinner, and held off for the entire last day of hiking! We took the easy route the last day, just 7 miles around the lakeshore, no elevation change (my knees are killing me).
Last night in Keswick - I broke out project #3:
Treenah
. Yep - crochet! Technically, knitting needles are still verboten at Manchester Airport. While many Knittys assert that they have had no problems knitting on flights out of Manchester, I decided not to risk it.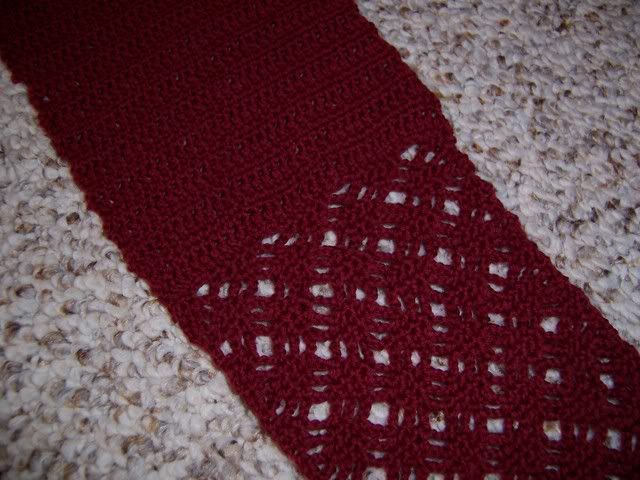 I crochet painfully slowly, but over the course of the last evening, the train ride back to Manchester, and the flight(s) back to Grand Rapids, I finished half the scarf (1 ball of Knit Picks Essentials). Neat!
Back at home now, I'm (almost) done with the Starghan. I cast off last night so I could spread it out and properly measure it -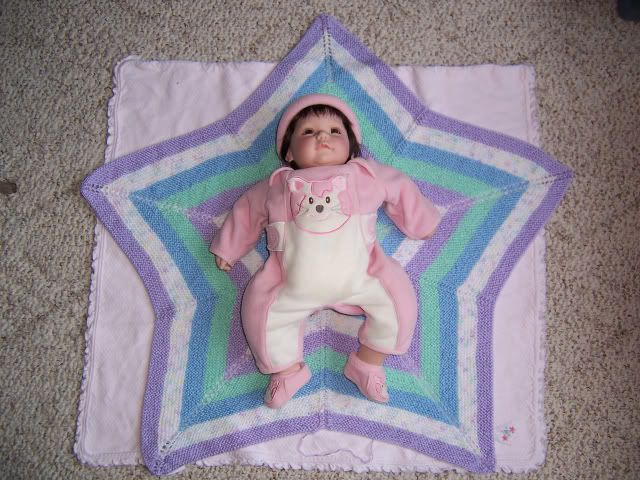 The doll on the blanket is 18" tall; the blanket underneath it is ~26 x 28". I looked through Audrey's old baby blankets, and the ones around 28 - 32" were the most used. The Starghan is 28" across each axis, but this is somehow feeling a little small to me. I'm going to undo the bindoff and work another stripe or two, make it a little meatier. I'm getting seriously worried that I won't finish both projects for Michelle before her baby comes. Each stripe takes about 3 evenings of knitting now.
Well, back to the needles!