Green stuff baby!
Spring! I think it's really here! Time to break out the cotton yarn:
a new sweater (short sleeve) for Audrey. This one is a 50/50 cotton acrylic blend (Plymouth jeannee) that washes and dries very nicely. It's knitting up super quick; I started swatching on April 1st, and now (April 6) I am done with the back, and halfway through the front. I just finished the second ball and expect to use a little over three balls to complete this project.
I didn't get nearly as much done as I planned to this weekend due to the first truly nice spring weekend. And that means....gardening! Still way to early to put new things in the ground, but just right for raking up the rotting dregs of the hostas, the old oak leaves (from next door. Hmpphhh), pruning the ends of the rose bushes, and just generally getting ready for planting time.
We spent a part of Sunday at the garden store, buying a new peach tree. See?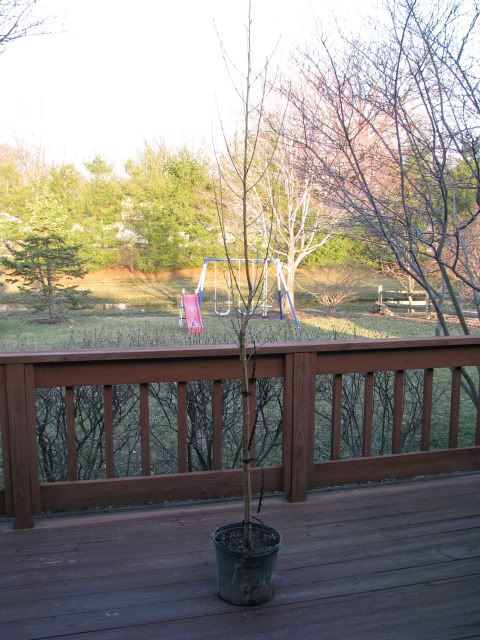 Looks nice on the deck, no? Well, it's way too early to plant it in the ground, as I said. It's going to spend the next couple weeks on the deck so that A) if there is a frost warning I can bring it into the kitchen for the night and B) it is protected from deer. There is a whole mess of lawn furniture blocking the entrance to the deck. I'm guessing the deer will not be so crazy as to jump over the railing and trap themselves on the deck to get at the tree. There's easier food around here.
Here is the tree it is replacing, that we just planted last year. It had more than two branches when we planted it (deer ate the rest), and bark too (white trunk protector was installed after they nibbled off the bark all the way round).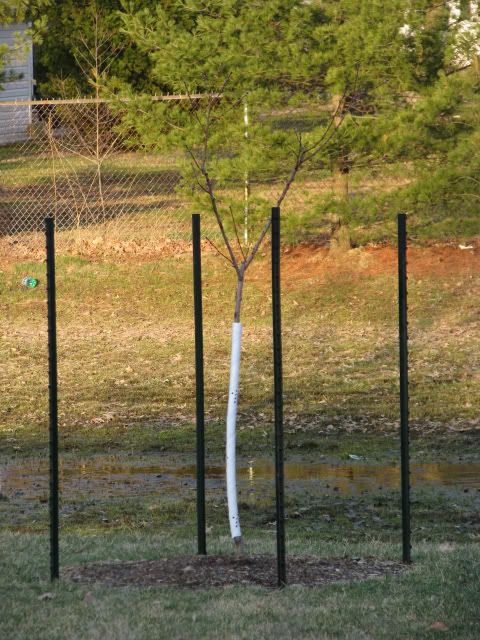 The six-foot tall stakes were pounded in Saturday. After the new tree goes in, the deer wire (like chicken wire, but taller) goes up. They are NOT going to eat this tree!
The cherry tomatoes Audrey planted with my MIL are sprouting on the kitchen counter:
I love spring!