The Good, The Bad, and the Ugly
The Good
I spent the last week or so doing a little stash control – I used up all but 22 g of the Capri Swish Superwash I bought for Audrey's Aran last year making another sweater (around 18 month size), and a pair of mittens (about 3 years size). The mittens took 17 grams each – maybe I should make a generic (non-handed) third mitten and send it along with the other two in case the recipient loses one? They're all going to charity though – would the agency just think I'm nuts? The mittens are such a fast project – about 1.5 hours each. Two evenings in front of the TV and you've got a pair! I got the pattern here. The site also has mitten patterns for all ages.
The construction was different than I was expecting – the mittens were knit flat and sewn up the side (and down the thumb). While I was initially a little annoyed (I dislike seaming), in hindsight I think I prefer a few inches of seaming to working 32 stitches (the length of one row) in the round. 8 stitches per needle over 4 needles is how I start out socks on dpns (toe up), and that's like wrestling a porcupine. At least with socks, I increase to 16 sts/needle pretty quickly (64 total). The mittens only go up to 40 total after the thumb. The sweater is from EZ's Knitting Without Tears – Seamless Raglan Sweater. A little wonky in the armpits where I had to graft, but passable.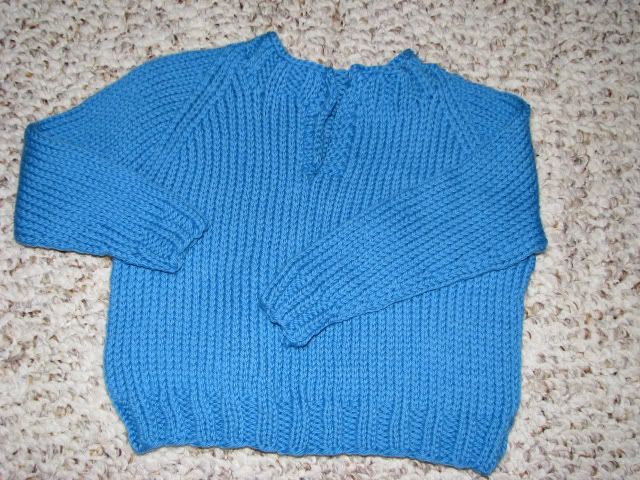 The Details: EZ's seamless raglan sweater, described in "Knitting Without Tears"
Needles: US 8
Yarn: about 2 skeins of KnitPicks Swish Superwash (worsted) in Capri
Began/Finished: March 7 - March 12, 2008. Still need to sew on 2 buttons on placket.

The Details: 3 year old cabled mittens
Source: www.freevintageknitting.com
Yarn: KnitPicks Swish Superwash (worsted) in Capri, 34 g
Needles: US3
Began/Finished: March 15 - 16, 2008

The Bad.
I think my car is trying to bankrupt me. It's a relatively new (6 years) car, with only 68K miles. Until now, absolutely repair-free. Sure, the rear brakes needed replacing at 50K, and of course a new set of tires around 40K, and the periodic oil change and tire rotation, but you'll have that with every car. I brought my car in for it's 60K tune up this weekend (again, a routine expense), expecting it would be a few hundred dollars. They do drain and replace all your fluids, and generally monkey around with the guts for a half-day or so. The mechanic called me a few hours into the job – I need new front brakes today too (+$300), and that funny smell? That's a leaking head gasket. $2000 if I want to do it today, or he can pour in a bottle of Super Seal for $6.99 and put off the gasket for a little while. Funny, he says, he's had six or seven of my model car in his shop in the last year with the exact same problem. I chose the latter of course, then went online. Turns out the manufacturer KNOWS the head gaskets were faulty for about 5 years of production. Turns out they were supposed to notify me by mail back in 2004 (they didn't). Their fix? No, they aren't replacing all those head gaskets. If I had brought it to the dealer, they would have poured in a free bottle of "Official Manufacturer Brand engine seal", and extended the gasket warranty up to 8 years/100K. But only if I go get that done at the dealership. Which of course is too late, since my mechanic had already poured in the Valvoline product. Arghhhh! Hopefully the Super Seal will get me another 30K miles, and then I plan on replacing the car anyway. No one in my family has ever managed to have a car make it past 100K. Either the body rusts out, or the maintenance/repair costs become more than the car is worth. My co-worker can't believe that, since all her cars have make it over 200K, but I guess bad car luck runs in my family.
Oh yeah. And on Tuesday my windshield cracked.
The Ugly.
I think I bit off more than I can chew with this quilt. I got all the pieces cut out, checking against the templates along the way to make sure they were all the right sizes. I started piecing last night (ripping out one seam for every two I sewed), and when I got to the final seam of the first block – look. It's like one piece is an entirely wrong size! There is no seam allowance on that piece! When I sew the border on, I'm going to lop off the point of the black triangle.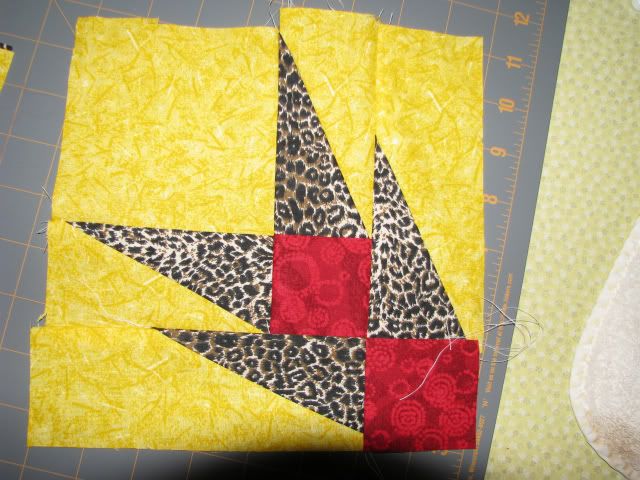 The instructions are no help. They assume you know how to sew together non-45° triangles. No matter which way I match them up – the resulting edges of the rectangle are not even. Help! I'm sure this is why at the end I am missing a ¼" on one side.
I think I should have bought a brighter yellow fabric too – but I'm not going to start over on that. This is looking like it's going to be another "practice quilt" – you know, those quilts you spend a lot of time on, then bury in a box when they are done. But I guess I won't get better if I don't practice. It's frustrating, because I feel like I can deal with just about any knitting pattern, but these stupid triangles are beating my butt.
Adios!