A bit of catching up to do.
First, my Booga Bag.
Finished a couple of weeks ago actually, but I'm slow getting the camera out.
A quick and easy knit –
Julie's instructions
are clear and easy to follow.
I only had 2.5 skeins of Kureyon, and finished this with yarn to spare (a little).
I worked up the body on US10 needles and the i-cord on US8, because this was a stash project and I don't buy new needles for stash projects.
Especially when the needles are larger than US10.
I just try to avoid those projects.
Felted one long cycle (hot wash/cold rinse) in the washer (I did the 15 minute washing option, no extra rinses), then fitted it over two plastic-bag covered cookbooks to dry.
To give the bottom some structure, I made a little basket out of super-stiff interfacing (Pellon) and used a fusible interfacing to glue some pretty coordinating fabric to the inside.
It's been a while since I last used double-sided fusible interfacing – I glued my basket template to the ironing board!
Rave reviews at work – everyone thought it was cute, even before I told them I made it. Quite a nice compliment – I'm never sure if people say they like something you made just because they feel obligated, or if they actually like it.
Rave reviews at home – Audrey demanded her own "but my size". And pink (changed her mind from red). Well, I didn't have pink wool and didn't want to prolong this project (but thanks for your offer Leigh!), but I did have a full skein of Plymouth Encore left over from her Scarborough sweater. Feltable? No. But knit on US2 needles, it's just about bullet proof on its own. Basic recipe: 7 sts/inch. Cast on 40 inches, work 14 rows garter stitch. Pick up 7 stitches on each end, and 40 stitches on the long sides. Work 5.5 inches in stockinette. Add a row of K2tog, yo eyelets (to facilitate threading the i-cord), then 4 rows of garter stitch to prevent edge curl. 36 inches of 3-stitch i-cord for the handles and you have a mini-booga bag for your littlest princess. Dimensions are ~6 x 6 x 1". Used 45 g of the Encore.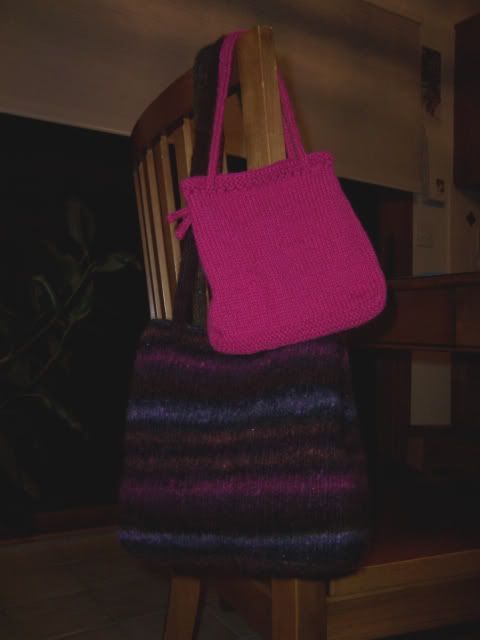 My Trellis Scarf is moving along at a steady pace of about 1 pattern repeat per 60 – 90 minutes. I'm halfway done! On a good night, I can get two repeats finished. If I really apply myself, I may be able to finish this by Valentine's Day. I could wear it to dinner? Over what, I'm not sure. But, it's a worthy goal.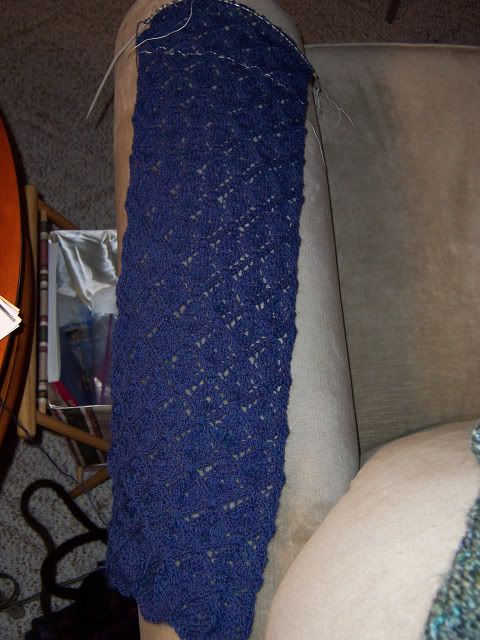 Next, Looky! – lots of little fabric shapes in ziplock baggies. It's such a humbling experience to start working in some craft I don't do but once in a blue moon. It took about 5 hours to cut all these pieces. The front of the quilt (with three borders) is only a mere 44" wide. You can't imagine how much longer it will take to sew all the pieces together. I think this pattern was listed in the "weekend projects" section of the magazine.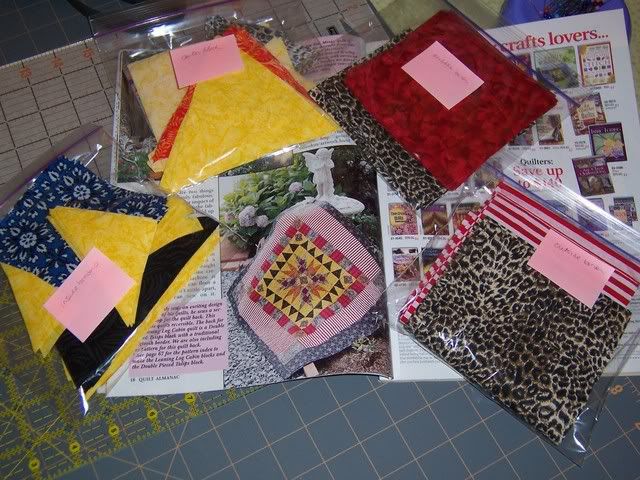 And my last FO for the week: my Christmas present (one of them) from DH: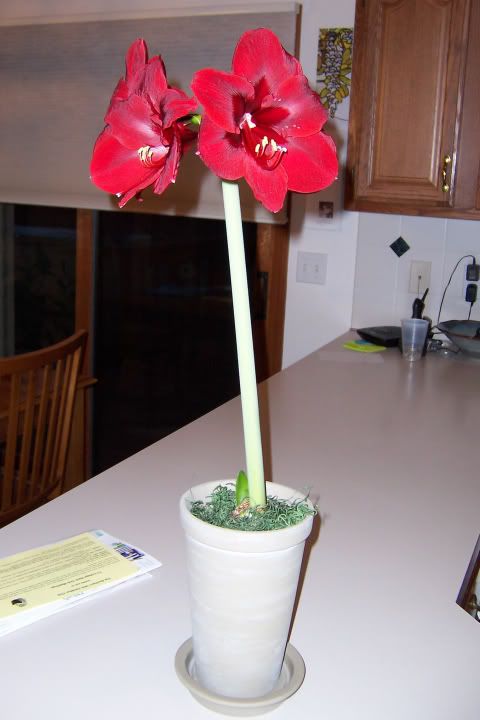 There are four giant flowers on top of a 16" stem. I started forcing this amaryllis bulb as soon as we got home after Christmas, so about 5 weeks from bulb to flower. This is one.big.flower.
Toodles!