Halfway through January
Sigh. It's really gray and rainy here. Or is it grey and rainy? I can never remember the right spelling for that color (but not colour - I know my GPS coordinates).
Last week I got an oh-so-wonderful three day all-expenses trip to Boca Raton, Florida! Woot! The weather was perfect - 80F and sunny every day. All I had to do was spend from 9 a.m. to 9 p.m. with some coworkers and some potential business partners. Which would have been great if one of them was not a chain-smoker. In the office. And IN THE LAB! Nothing like watching someone light up a smoke a few feet from a 5 gal drum of methanol. Eep! I have never had to use my inhaler 3 times in 24 hours before now. A new experience for me.
The "late" starting time each morning meant I got to go out for a jog (to the beach! In shorts and a t-shirt!) Weds and Thurs, which is a real treat. Just the temperature was a treat. I never jog to the ocean from my house - it's a few hundred miles. Even Lake Erie is a bit past my current fitness level I think, although I may work on that this spring and summer. And meals were al-fresco, which kept the concentration of smoke to a minimum. And I ate a lot of seafood, which I love. Is it still health food if it is battered and fried?
The three hour flight meant a little quality Knitting time of course - just right for a Cascade Fixation ankle sock: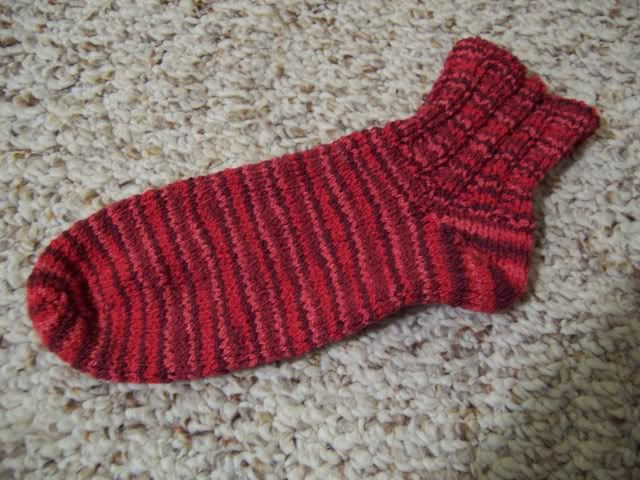 You can get a pair of these out of one skein, which I think was about $6 (can't remember). I used US3 needles, and 40 sts/round. Speedy knit. The thing is - I don't really like the way this sock looks on my foot or feels. I may not make the second one.
After arriving home, I finished my Northern Lights Mittens. My first real Fair Isle project. The picture below is post-blocking - my gauge loosened up considerably as I got used to the two handed knitting technique. They fit well in the wrists, thumbs, and lower hand, but have way too much free space up at top. I don't know if that is just the way I knit them, or the way they were designed. Probably just me.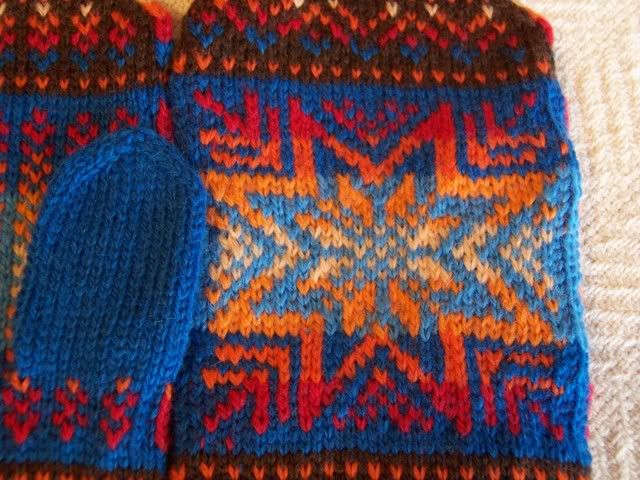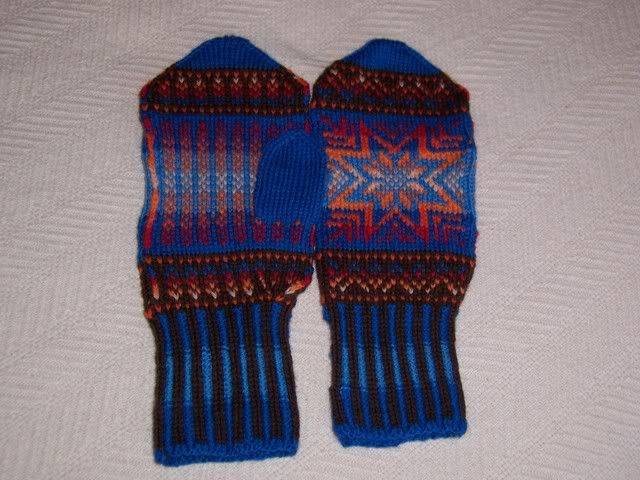 As you might expect, the pattern uses up lots more Bark and Blue yarn than red, peach, orange, apricot, or pool. Here's what I had left of each ball: bark - 33 g; blue - 30 g; red - 46 g; peach - 47 g; orange - 46 g, apricot - 48 g; and pool - 41 g. So, there is enough yarn in the initial purchase (7 balls of Palette) to make two complete pairs of Northern Lights, and then (350 - 2x60 = 230 g) = 3 pairs more pairs in random color patterns + 50 g left over. That's a lot of mittens for $14! I think I will make more mittens, but probably just in two colors to practice the technique. Charity knitting perhaps? (I really don't need 5 new pairs of mittens).
No (intentional) pattern mods here. I used US2 needles to get gauge of 10 sts/inch; started 11/24/2007 and finished 1/12/2008.
Which brings me to this: empty needles. And no real jones to make anything yet. I'm toying with some stash-busting projects - a booga bag to use up the Kureyon from last year's vest, a couple lace scarves to use up all though single skeins of laceweight I bought a couple of years ago. This afternoon I had a sudden brainstorm that I should design and knit a Valentine's day sweater for my daughter as a surprise. Because, you know, I like stressful deadlines. That's probably what I'll do. Because, you know, I'm kind of dumb that way.
See you later!