I'm baaaack!
Anybody miss me?
We have returned from our mini-vacation over Columbus Day/Canadian Thanksgiving to Toronto. Last June, for our 9th anniversary, my parents offered us a three-day, two night babysitting date, for the weekend of our choice. Initially, it was also for the city of our choice (ours or theirs), but once we picked the weekend, it turned out that Mom had a meeting on Monday, and our city was just not going to work.
So, Rochester it was. From Rochester, the best weekend getaways (city-wise) are Toronto (easy drive) or NYC (easy flight). We both love Toronto, so booked ourselves a room downtown and away we went!
First stop: Galleria Mall in Buffalo. We exchanged child and carseat in the parking lot outside Lord & Taylor. After a tense lunch in the food court (child would not look at, speak to, or sit on same side of table with grandparents), she warmed up to my mom immediately after my mom suggested we go look for a doll store. Jumped right into her lap. The men went out to the lot to wrestle the carseat into my folk's car. When they returned, Audrey waved goodbye to us and dragged my parents back into the mall. I could tell she really missed us. Not.
Next stop: the Gardiner Expressway. Literally. From Buffalo to downtown Toronto should be a 2 hour drive. It took three. Need I say more?
Finally: the hotel. We splurged on a nice hotel right downtown, easy walking distance from just about everything. Our room was on the 22nd floor, facing north. Here's our view: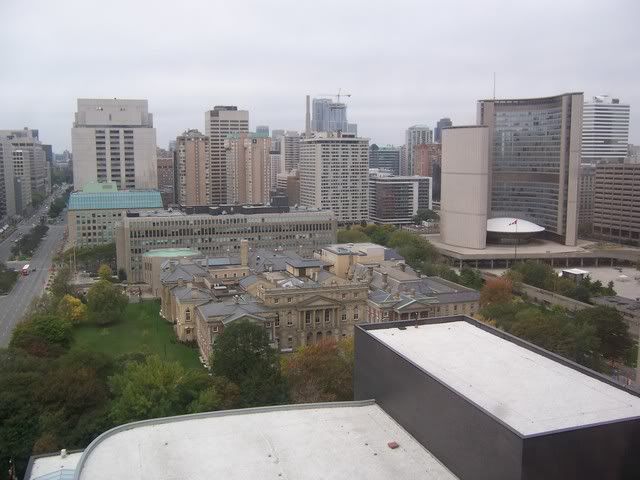 You can see City Hall from here - it's that two -part, curved building in the upper right. The one with the UFO parked in the courtyard. Yeah, that's the one. Not a bad parking place, eh? I wonder what they are paying/24 hours. Our hotel charged $24.
Not having too much time for dinner, we took a stroll to stretch our legs and walked a big circle around
Eaton Centre
, a huge indoor mall. If you like big malls, this should please you. 285 stores. Yikes.
Back to the hotel to dress for dinner at La Fenice (Italian at 319 King St. W, no web site), then to the
Diesel Playhouse
to see
Jewtopia
, a comedy which we found funny, without being offensive. If you are the easily offended type however, you might find it the opposite. But, if you like a good comedy - go see it! The run has been extended to Dec. 1.
And that was Saturday. On Sunday, we decided to work our leg muscles. First, we walked back to Yonge Street for breakfast at
Eggspectation
. Huge, HUGE breakfast for very reasonable prices. Then, we waddled up University Ave, through the University of Toronto, to the
Royal Ontario Museum
. For 2.5 hours we had the museum nearly to ourselves, having arrived just as it opened. Ancient Egypt, Greece, the Bronze Age, the First Peoples of Canada - all excellent exhibits. The museum looks to be about 1/2 closed for expansion and renovation. I can't imagine how big it will be when it is fully open. Oh yeah, we skipped the entire second floor and the Crystal.
From the museum, a quick foot tour of Yorkville (mostly closed for the holiday), then back south on Spadina to Nassau where I sought
Lettuce Knits
. Woot! What a great selection of things crammed into a tiny store. DH sat outside on the front steps while I touched everything in there, returning just as I was handing over my Visa card. Oops. But, I restrained myself! If I bought some of everything that wasn't available at home, I would have had to dip into the college fund. Here's the goodies:
Spinning fiber - Fleece Artist (the orange) and Lettuce Knits dyed (the multicolored)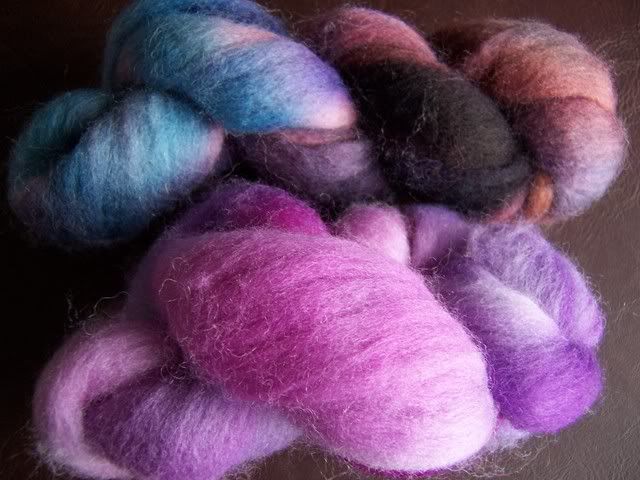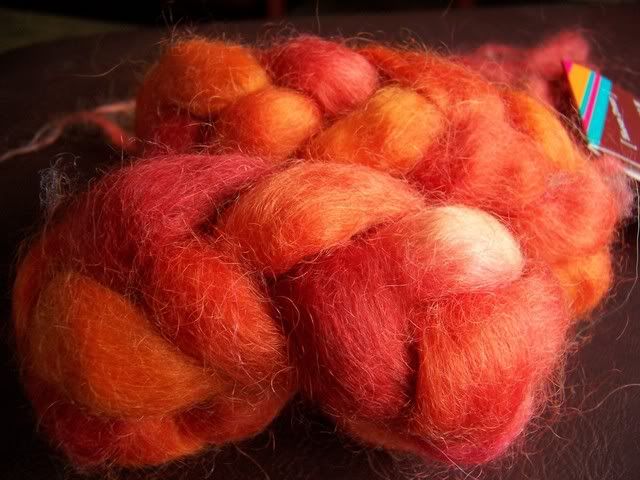 The yarn - Lorna's Laces in Mother Lode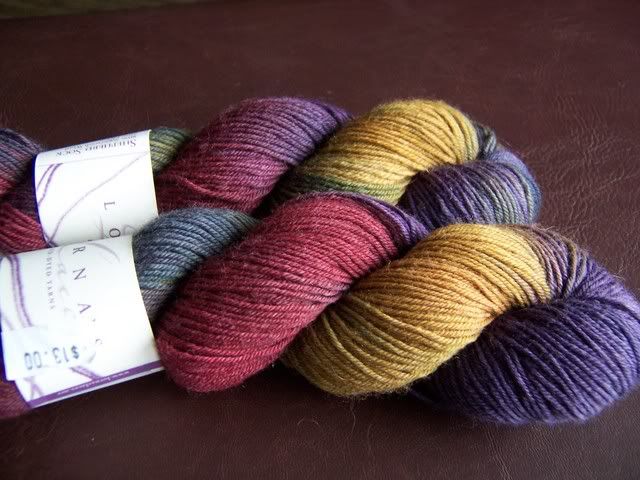 Yummmm. I love these colors! Now I only have to find the time to knit and spin it all.
Leaving the Kensington Market area, we trekked back down Spadina through Chinatown to Queen St., where we stopped at the Crepe Cafe (246 Queen St. W., no web site) for a light lunch. Excellent! I had a panini sandwich filled with marinated vegetables; DH had the spinach and feta crepe. Again, a very modestly priced meal.
Went back to the hotel, changed into my bathing suit and collapsed in the whirlpool and sauna for 45 minutes or so before dinner. Too exhausted (we were on our feet for almost 5.5 hours today) to go searching for dinner, we ate at the hotel restaurant -
Tundra
. It lived up to it's AAA 4 diamond rating, with a price tag to match. Ouch! And there won't be any nice discount on currency when we get the bill this time. $1 = $1CDN. Can you believe it? But the meal was excellent and the service perfect. From there, Second City for a little improv, then back to the hotel to crash.
Monday morning we slept in, limped back to Eggspectation for breakfast, then back to the hotel to pack and take another quick dip in the pool. Checked out, hung out at Eaton Centre until lunch, then hit the road. Back at the Galleria Mall at 3 p.m. to pick up Audrey, and back in Cleveland at 9 p.m.
Whew! What a weekend! We had a blast - I can't wait to do it again. Maybe Chicago next time?