Coronet
And the winner of the "what shall I knit next?" contest is....
Coronet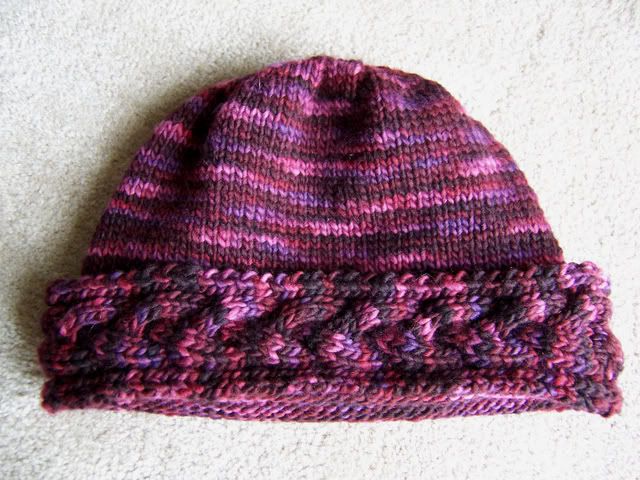 Pattern: Coronet
Source:
Knitty
Yarn: Malabrigo in "Velvet Grapes"
Needles: US8
Time to complete - less than 1 week
This yarn was a gift from my very first SP ever - it has been marinating in stash since last summer. I wanted to do something yummy with it, but I wanted to minimize pilling, since I've heard that happens a lot with this yarn. It is so soft and lovely to work with - I can see why people get addicted. Of the 100 g skein, I had 23 g left over - wrist warmers?
A busy, busy weekend here, getting ready for DH's next business trip. He's gone all next week, but my inlaws are coming down for a couple of days to help out and visit with Audrey. Which means the house has to be clean, and some food in the fridge. Other highlights of the weekend - painted the trim around the garage door (steel blue), took Audrey to a swimming lesson, bought new work clothes for the fall (20% off at Eddie Bauer - woo hoo!), shopped for final SP package, and watched the first two hours of "The Seven Samurai", because we've never seen it. There's still an hour and a half left to go, I think that will be next weekend's entertainment.
Speaking of movies, I just got a call from a telephone survey that wanted to discuss my movie viewing habits. Since I have not been to a movie in the last two months, and can't remember if I have seen 4 movies in the last 12 months, she apologized for wasting my time and hung up. How pathetic is that? Ah well, that's why we have Netflix.
In other news:
Bud Watch