And we're off!
Off my rocker that is...
I have signed up for the
2007 Tour de Fleece
- a 3-week long spinning event to spin along with the riders of the Tour de France. The goals are self imposed: my goal is to spin a little every day ( a big challenge for me - I tend to ignore my spindle for weeks at a time), and to spin 3 new kinds of fiber during the 3 weeks. Prior to this, I have only spun a soft, long-staple fiber I bought from the
woman I took a few lessons from
. Back in January, and I'm still working through the
4 oz
. I bought at my second lesson. Ahem.
So, spinning along with the rest of the tour should be a good motivation for me to keep up! I don't have any yardage goals, just a consistency goal.
I just ordered a few ounces of 3 different fibers from
Nistock Farms
, hopefully they will be here before the end of next week. Until then, I will be riding "warm up" with my blue fiber (I think it's Corriedale).
Knitting - I won't abandon the shawl, not when it's so close to being finished! Lookie!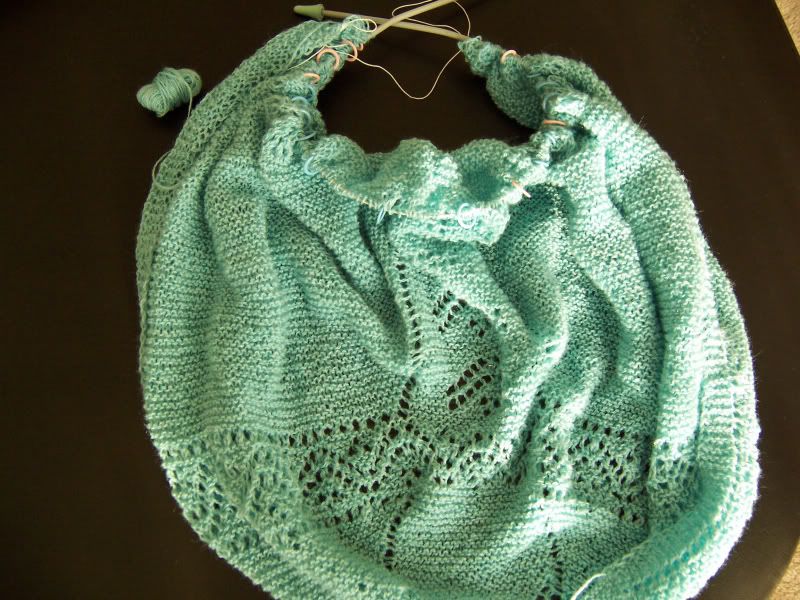 See that tiny little nubbin of yarn next to the left needle? That's all that is left of ball 1, and I was on row 160. I joined ball 2 in row 161, and am cruising (plodding) through the last lace chart to row 178. Then a few finishing rows of eyelet and garter stitch, and I'm done! The lace goes very slowly for me - about 2 rows per night, but I can knit up to 4 rows per night in the garter areas. Yay! I may get to wear this during the summer still!
Other -
Hazy hot and humid here, a real summer day with temps near 90. My next-door neighbor has invited us (Audrey and I) for a swimming play-date with her girls after naptime. Can't wait!
I'll try to post more regularly during the Tour - I hope to get into the swing of things spinning so it isn't such a production to spin up a hunk of roving during this time.
Later!