Mid June milestones
Happy Father's Day to all you fathers out there!
It is now mid June, which to me was always just the beginning of summer. Today I overheard a lady discussing the season with a saleswoman at the department store, and learned that "summer is nearly over". Huhh? Good thing I haven't gotten around to buying any shorts yet this year. Nearly time to pull out my wool slacks for Fall again I guess.
Good thing I've reached a major "milestone" in Audrey's sweater: the front and back are complete, and shoulders seamed. Tonight I finished one sleeve too (not pictured).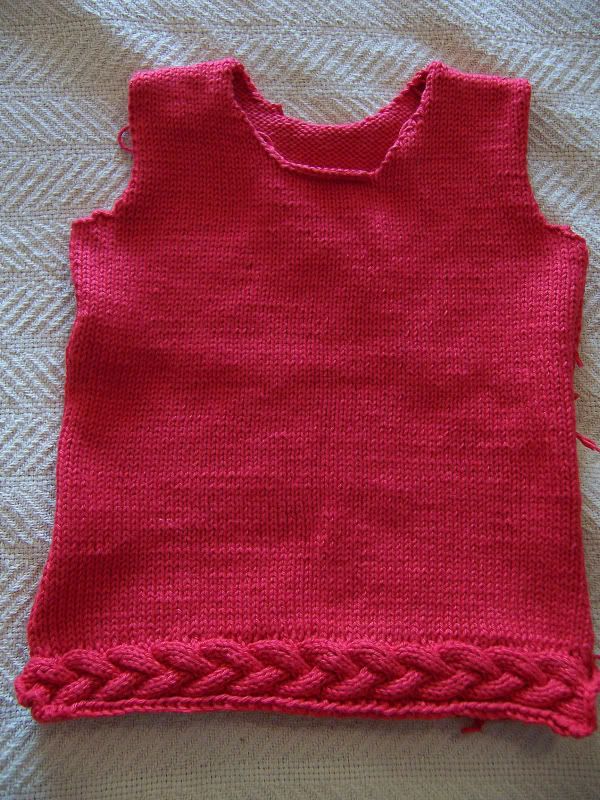 I think maybe another two nights for the other sleeve, one night for seaming, and one night for the neckline. So by next weekend, I think it will be done!
Milestone reached in the Follow the Leader Shawl too - I finished gusset chart "C" and have started chart "D". It's difficult to show progress on an unblocked shawl, one blob looks just like the next. Here's the yarn photo: according to the pattern, I think I will use up 1.5 cakes of this yarn.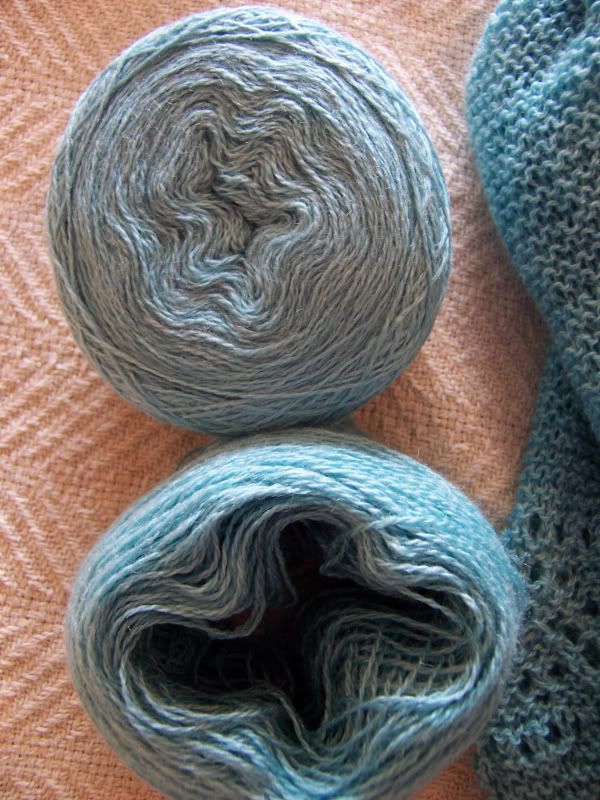 The garter stitch "wings" on this pattern are starting to bore me. This is a lot of garter stitch. Still, I think I will like the simplicity of the finished shawl for work. Not quite as boring as the garter stitch baby blanket I made while pregnant (that was acrylic, this is lovely wool-silk blend), but enough garter stitch to send me to the looney bin just the same.
I'm not quite sure what to knit next. I'm almost out of time to make a blanket for Michelle's baby before she is born, but I would still like to do that. I want to shop for new yarn (summer sales and all), but I haven't even dented (more like dinged) the stash I created with last summer's sales (neither of the current projects for example came from the stash). I think at heart, I am a project knitter. I really need to find the project first, then the yarn. The beautiful yarn I bought with no project in mind - just sits there. And then I've got a few skeins of gift yarn to knit up. These are easier - the sock yarn becomes socks, the novelty yarn a scarf. But time, where is the time?
How do people do it - the ones that feature new yarn purchases on their blogs each week? Can you really knit 4 pairs of socks a week? Am I terribly slow? Or are there overflowing closets somewhere, exploding with sock yarn?
Ah well, back to the needles! Best finish these before the winter (which I hear starts around Labor Day).