Steeeeeeeks!
The deep-V Kureyon vest is nearly done! I'm totally loving this steeking stuff. I made up a swatch of Lamb's Pride to practice on, and after seeing how secure a crochet-reinforced steek is, I snipped away at my vest without fear. Why was I so nervous about this?
Here's a picture of the vest with the shoulders ready to be joined and all knitting done (March 14):
And again a week later (March 20) with the armholes cut and edged, just the V-neck left to cut open.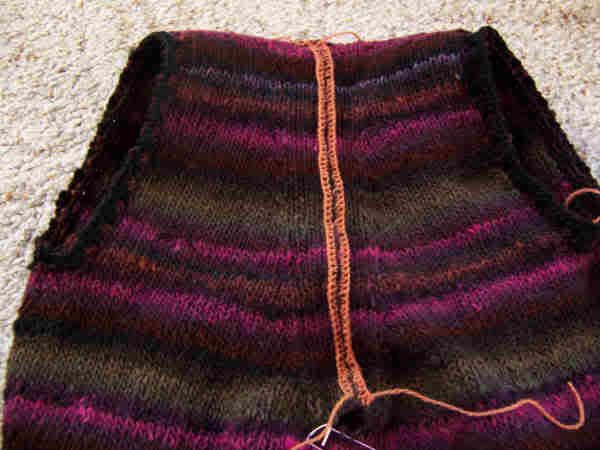 The knitting is all done now, but I still have to weave in a few ends, and tack down the inside of the steeks. Then block. Next post will be the FO!
Upcoming projects: I just received a copy of Sivia Harding's Follow the Leader Shawl in the mail. It calls for either fingering weight or lace weight, with apparently the same finished size. I really want to try Jagger Zephyr Wool-Silk lace weight, but I'm not sure it would be warm enough. Then again, there isn't a sock yarn that I'm in love with enough to buy 1100 yds of.
Most immediate new project to soon-be-on-the-needles: Colinette Jitterbug socks in Castagna. My flight to NYC for the Vision-East Expo departs at 6 a.m. Friday.