Happy New Year!
Whoops, I've been a bit delinquent in posting! Just a month and a day since my last post. Which is terrible really, since I actually have been collecting nice yarn-y pictures to add for the last month.
Most recent first: I took some spinning lessons from a local fiber store (
French Creek Fiber Arts
in Avon, OH). Look what I made! About 25 yds of thick and thin 2 ply from a little under 2 oz. of roving. I had my plying lesson yesterday, and it came out well balanced (yay me!). Now I'm swatching it up to save for posterity. I have a long way to go before I spin anything I want to wear.
Of course, I need more roving to practice on: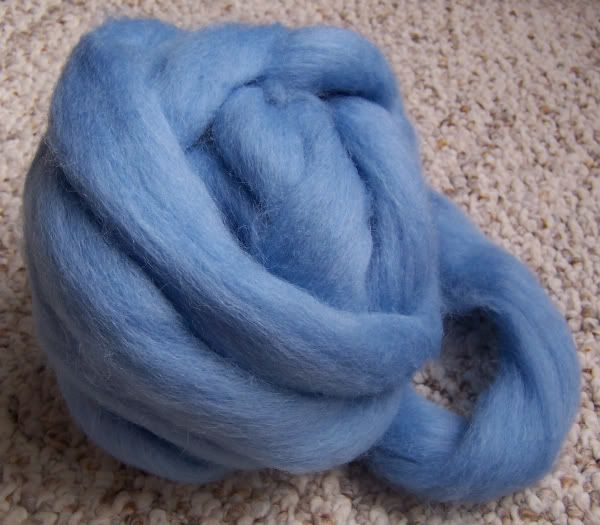 The second roving really is a lighter shade of blue than the first yarn, it's not just my lousy camera playing tricks. I bought 4.4 oz of the second, and still have about .25 oz. of the first unspun, so I thought I would try to do a little blending.
In knitting news: I finished my "simple dress grey socks" that I started in December, making them officially the first FO of 2007. They took me much longer than socks usually do, owing to the holidays, and spinning, and family and stuff.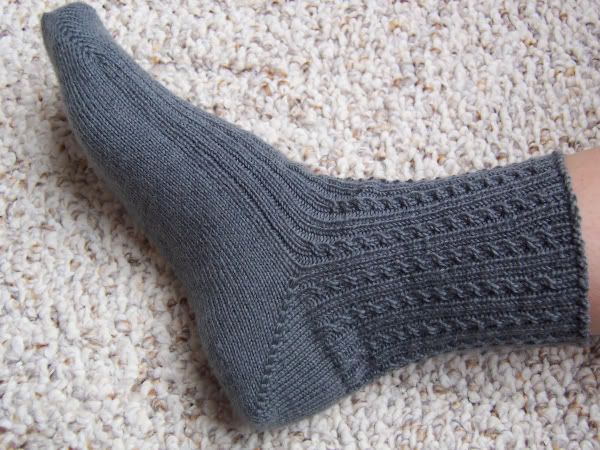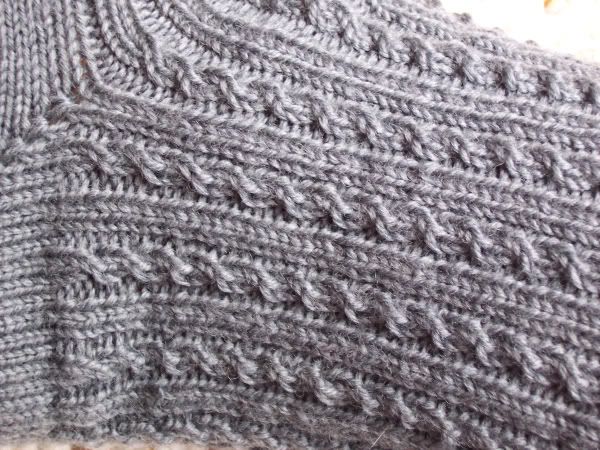 Yarn: Knit Picks Essentials in Ash (color is closer to the top photo)
Pattern: my own, short row toes and heels
Needles: US0
Date started/finished: 12/11/2005, 1/20/2007
This yarn knitted up much tighter than other sock yarns I have used. I got 21 sts/2", usually I am closer to 16 sts/2". On the plus side though, all those extra stitches per round means more room for more cables! I have more of this yarn in a burgundy color in my stash - maybe would be good for Cablenet?
While on vacation over Christmas, I hypnotized my SIL (not really) into wanting to knit socks too. We went to Lizzie Ann's Wool Co. in Holland, MI (no web site, you'll have to visit it in person. It's on 8th St. in downtown). Great store - I recommend it if you are in the area. The woman who was working there gave Knitty a plug too for their excellent tutorials on sock knitting. Got to love it! Nice sock yarn selection there, of course I couldn't resist:
Umm, okay blogger. Where is my photo?
Pretend you see a photo of yummy Collinette Jitterbug sock yarn here, in mellow browns other neutral colors.
Hmph. I hate it when that happens.
Let's try one more photo of some yarn I bought for my Sock Swap partner, Stephie26 (colors have been masked to protect the innocent):
Okay, let's not. I guess I should close this post and try again later.