Catching up
Finally have a chance to catch my breath and catch up with my poor neglected blog. We had a nice Thanksgiving weekend with my folks, ate too much turkey, too much stuffing (Mom made a whole extra casserole full just so we would have ample leftovers for the Second Thanksgiving Dinner that couldn't be beat). We had a chance to visit some nice stores that sell pottery and wood items made by real HANDS! As opposed to a machine in a foreign country. And finished off some of our Christmas shopping. Just a couple people left to buy for!
Again, I did not bring the long-suffering Swallowtail shawl with me. I ran out to Birds of a Feather in Avon the night before we left, with Kidlet in tow, to pick out some yarn for a new hat and scarf. Requirements: worsted weight, machine washable. I was hoping for Cascade superwash or some other superwash wool, but the best I could do was an 80/20 acrylic/wool blend by Reynolds. Still, you've got to admit, the colors ROCK with Audrey's winter jacket.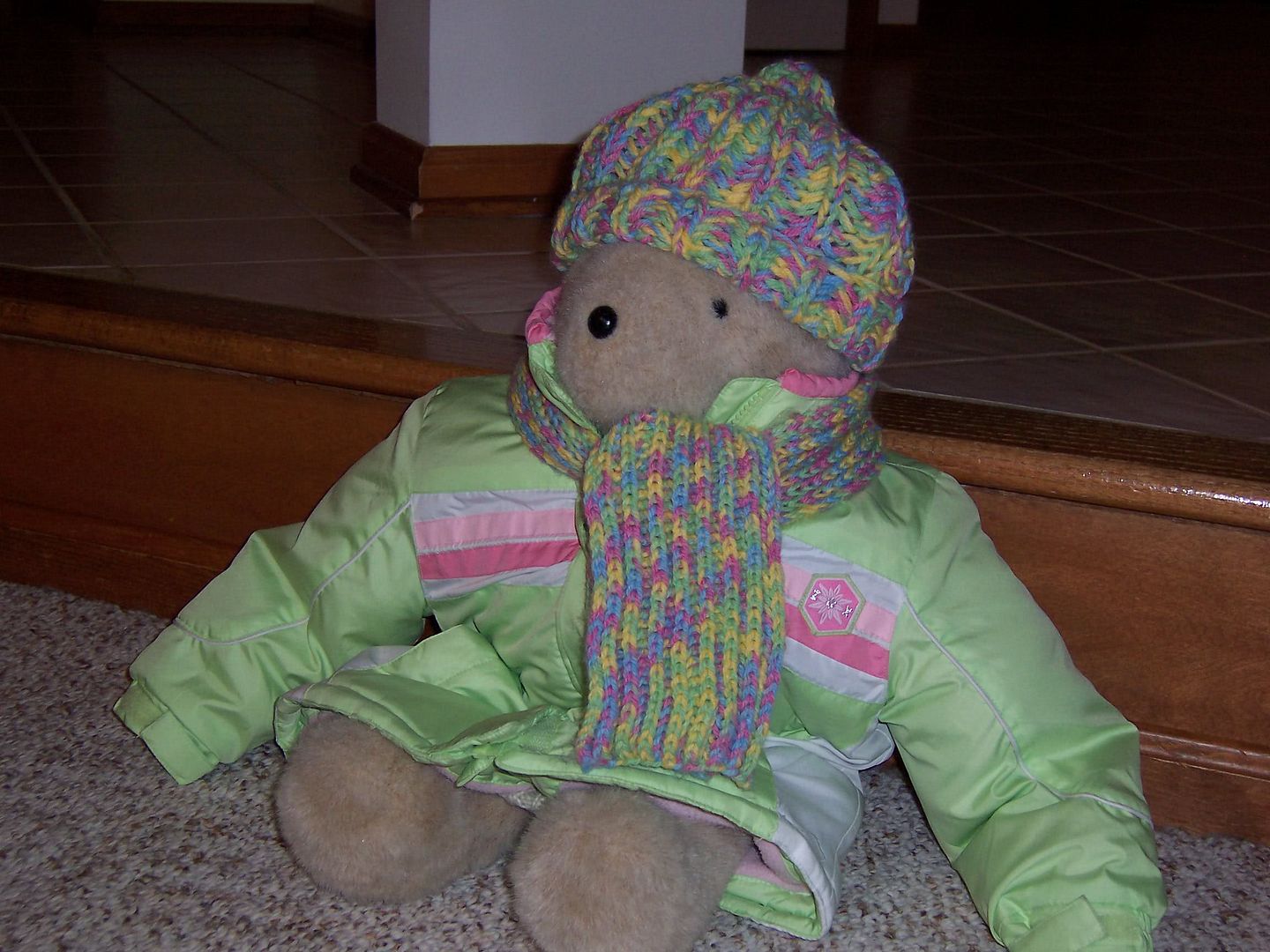 Very quick knit - I started the hat in the car on Wednesday afternoon, and finished the scarf Sunday night. Hat: yarn held double, US10 needles, brioche stitch a la EZ's watch cap in "Knitting without Tears". Scarf: single strand yarn, US8 needles, brioche stitch.
Swallowtail Shawl - the end is in sight! And I don't mean everybody elses, although seeing such beautiful FO's on Laura's and Turtlegirl's blogs are really giving me hope that I might finish mine before Christmas. I finished the two Lily of the Valley sections and with the nupps behind me, I am cruising along through the last chart to the finish. Just 6 rows and the cast-off to go! Wooo Hooo! No progress photo - it still looks like a pile of green ramen.
With any luck, it will be done (and blocked, more importantly) by the next post. Thanks for your patience!