Everyone slept well last night
Fall is here and the nights are becoming cooler. Good sleeping weather. The leaves are turning colors. Monday and Tuesday were bright and sunny and unseasonably warm - almost 70F. Today the rain has come and the temperature is dropping - they are predicting some parts of the city may see snow tonight. Good sleeping weather.
Clapotis is done just in time (see previous post) to wrap around my shoulders in the morning before the office has warmed up. With nothing on the needles and the hint of winter in the air, I cast on my Christmas knitting - the Swallowtail Shawl from Evelyn Clark in Interweave Knits (Fall 2006). I cast on Sunday night actually, and took a picture Monday afternoon. Last night I completed another repeat of the Budding Lace 2 chart. Clearly this is not going to be finished in a mere week. Still, I have to admit I was attracted to this pattern after seeing so many pretty renditions in blogland and reading about what a fast easy knit it is. I'm optimistic I can finish it in 4 weeks though. That seems reasonable to me. The yarn is Knitpicks Alpaca Cloud in Moss. Lovely yarn and unbelievably inexpensive.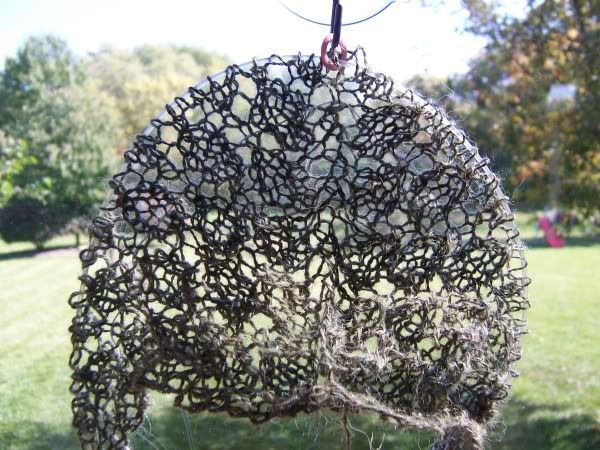 Unblocked lace is most unimpressive isn't it?
I plyed up my first handspun (eek!) last night and washed it to set the twist. It actually doesn't seem so overspun now - the skein is hanging nicely, and the strands are not fighting to coil up anymore. It should be dry by tonight; I'll take lots of pics of my first yarn baby!