I cheated
I promised I would not cast on any new project until after the living room was redecorated. Nothing major, just some paint, new curtains, and a valence. The living room is Kicking.My.Butt.
First, some "before" photos: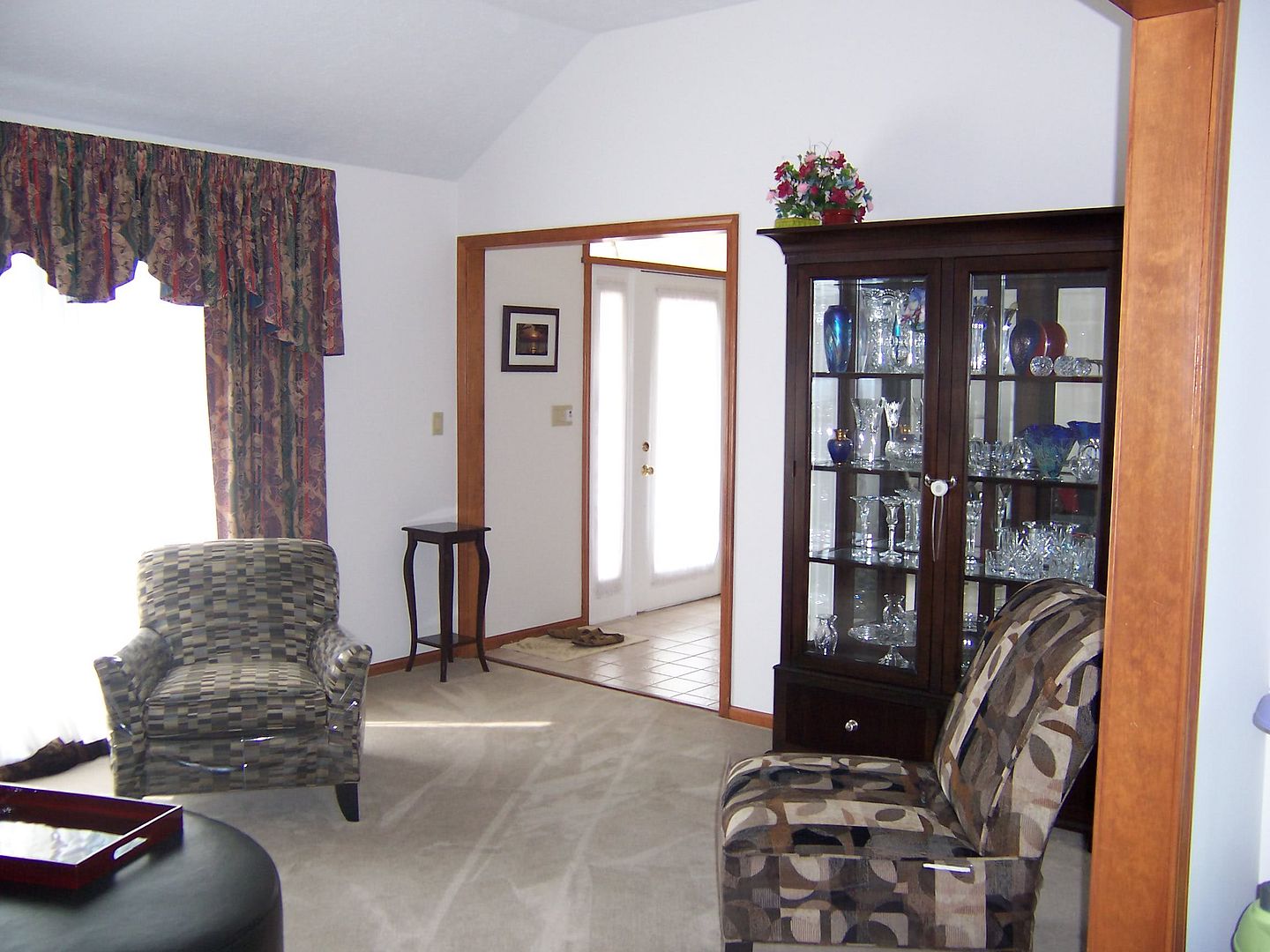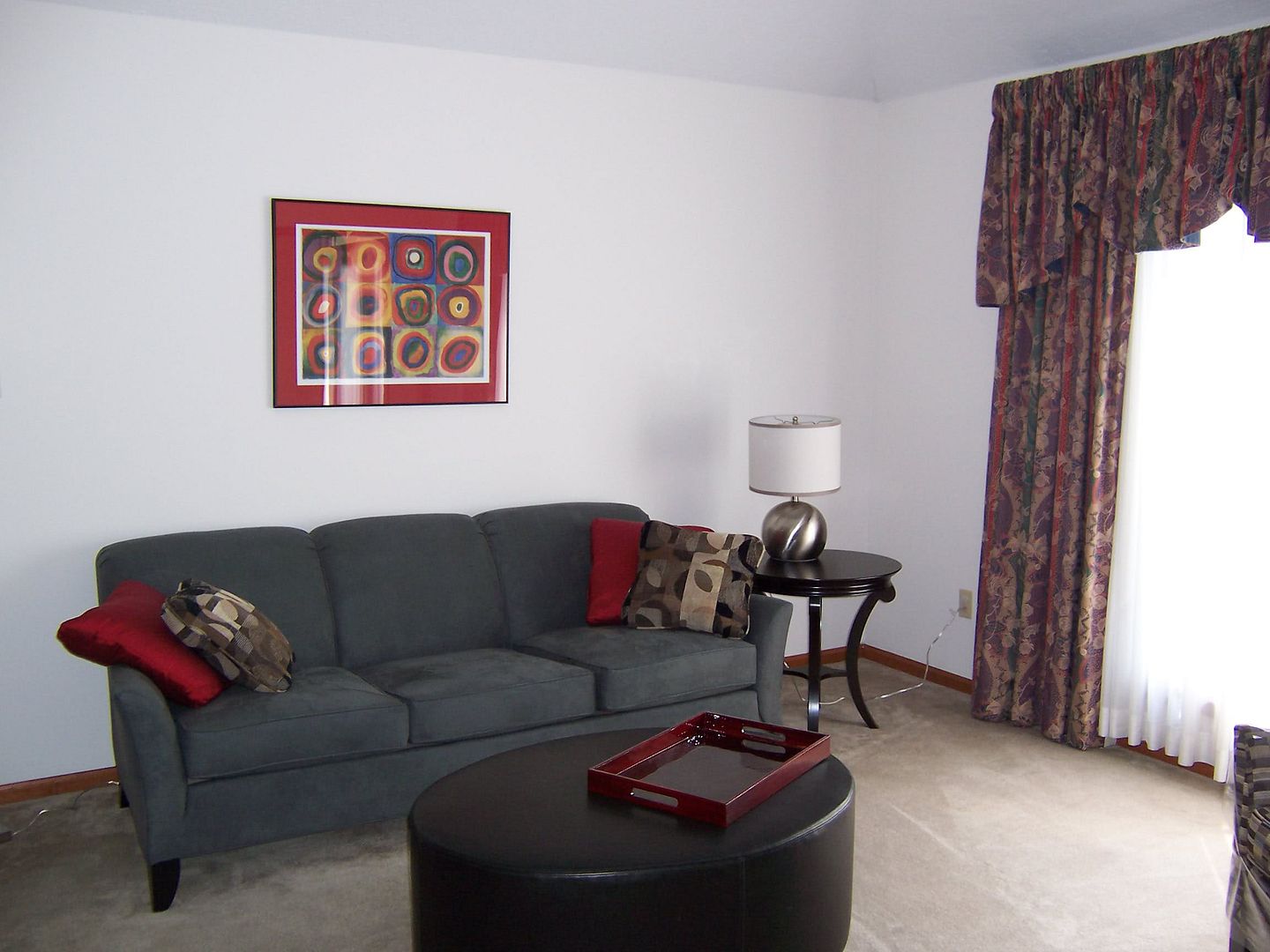 Not terrible, but not good. We painted the walls of every room right after we moved in to clean them up (house was 13 years old and had raised 3 boys). Just went with "contractor's white" to avoid having to make any color decisions. You can barely tell where the walls end and the ceiling begins. Next, the curtains. Very heavy, ornate curtains from the late eighties in deep tones of red, green, and blue with a golden paisely overlay. They actually looked good (if a bit dated) with our old green sofa. But with the new furniture (geometric prints in shades of gray/black/brown/tan/beige) - a pattern/color war.
First off - remove the old curtains. I pulled up where I should have pulled out and removed a sizeable chunk of drywall with the curtains. Add 3 days for extensive wall repair.
Next - paint. New color: Behr Country Beige. Sigh. It's a nice beige, but so much lighter than I was expecting. Now you can see where the walls and ceiling meet, but you still wouldn't say we had added a "color" to the walls. I was expecting more of a distinct tan color based on the chip, and the adage that paint is always more intense on the wall than the chip.
Then - remove the painter's masking tape. Accidentally removed a strip of paint at the edge by the door - right down past the top surface of the drywall. Time to get the spackle back out!
Time to hang the curtains - I measured the length 4 times to be sure I knew how long they were, including hardware. I wanted a 1" clearance over the baseboards - they are puddling on the floor. Also discovered the dry cleaner had lost two of the curtain rings. Yes, I should have checked this a year ago when I had them cleaned (these were some hand-me-down curtains my mom had made for their old house).
Last - went to Joann to pick up another package of clips for the valance - discontinued style. No more to be had. Can't find them on the internet.
What a freaking disaster!
So, with DH out of town this week, there's really not much more I can do to the living room until he gets home. Can you blame me for pulling out the needles?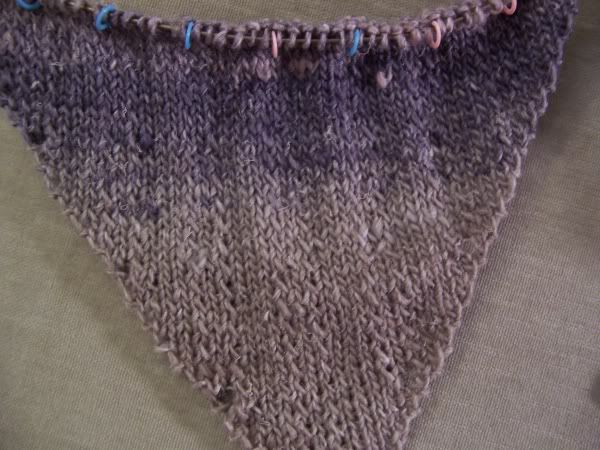 My newest project: Clapotis in Noro Silk Garden. Very calming neutral shades of oatmeal, lavendar and greens. I stitched happily along while watching "Balzac and the Little Chinese Seamstress" last night on DVD. And I'll stitch along more tonight with the season premier of "Grey's Anatomy" - Dr. McDreamy - swoooon.
Kudos to Kevin!
My friend
Kevin
had a small part in the season premier of CSI:Special Victims Unit on Tuesday! He was the paramedic attending the detectives who were at the bad guy's cabin when it blew up. A speaking role! Kevin has been working really hard for the last decade to get into the acting business, and while he has been in (or done voice work for) many independent films, shows, and cartoons, this is the first role that has been on PrimeTime network TV. So I finally got to see him.