Alice the camel has...
One hump! (and two passengers)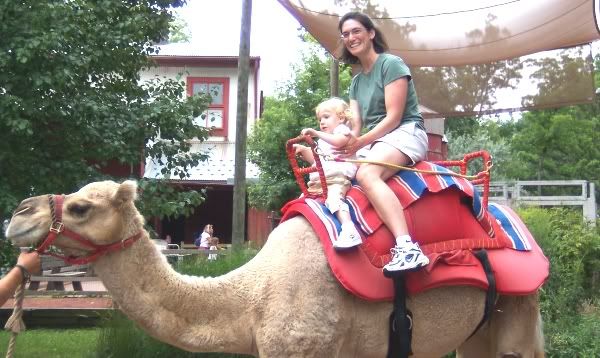 Just had to post this picture from the weekend. We took Audrey to the
Memphis Kiddie Park
, then over to the
Cleveland Metroparks Zoo
. Of course she wanted to ride the camel. As she is a little too young to ride the camel solo, I was elected to ride with her. I plan never to ride a camel again, so enjoy this picture. It's the last one you'll see.
Knitting
The second Pomatomus sock is done except for the grafting! And I've cast on for a scarf. I'm using one of the CTH DK skeins I bought a couple weeks ago, and am following a diagonal short-row pattern. Not sure if I like it yet. I'll knit a couple more inches and make a commitment or look for another pattern.
Short post today - more later this week I hope. Wish me luck on my job interview tomorrow!