Q: What is 18x12x4"?
A:
a) Audrey's birthday gift from Aunt Wendy
or
b) Zoey
And the correct answer is: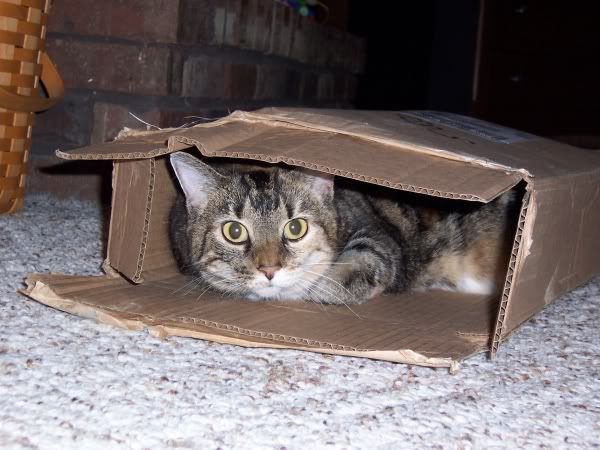 Aunt Wendy's gift was slightly smaller than 18x12x4" to accomodate packing material. Zoey is a pretty tight fit. Zoey would like to add though, that most of that is fur. She is a svelte 10 pounds.
It's Sue's fault
I stopped by Yarn Knit by Sue yesterday at lunchtime to pick up the new Interweave Knits and one skein of yarn to make a project for the October Knitted Things Swap. One skein. Maybe two if she had some good sock yarn. The Swap limit is $20, and I figured I could make a nice scarf or pair of socks for that.
But Sue had other plans. She had a bag sale. 50% off per bag. She had pairs of CTH superwash merino DK in bags. Two different colorways per bag. There were other yarns in bags too, but none so pretty as the CTH superwash. Of course I couldn't leave it there lonely in the crates, so I took home a few. Final bill: $82.
Is it not beautiful? From left to right: Spanish Moss, Tropical Storm, Old Rose, Green Mtn. Madness, Winterberry, and Peacock. I'm thinking a mini-clapotis for my pal. One of those colorways matches her favorite colors pretty near perfect.
Second Sock Syndrome
I cast on the second Pomatomus: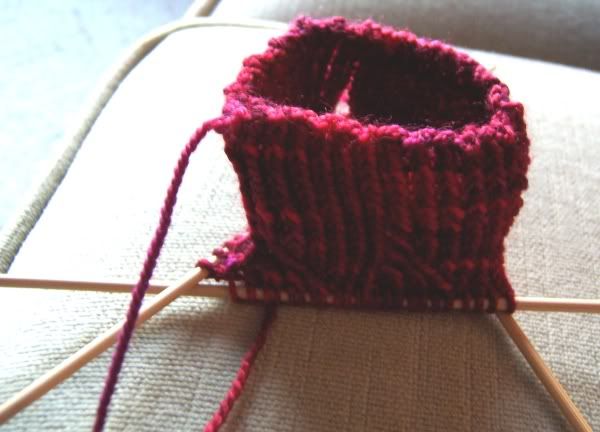 We're off to a slower start on this sock.