Thank you SP!
I have a great SP for the KnittyBoard Mellow SP2 round! She spoils me so - look at all the goodies that were waiting for me when I got home from work last night: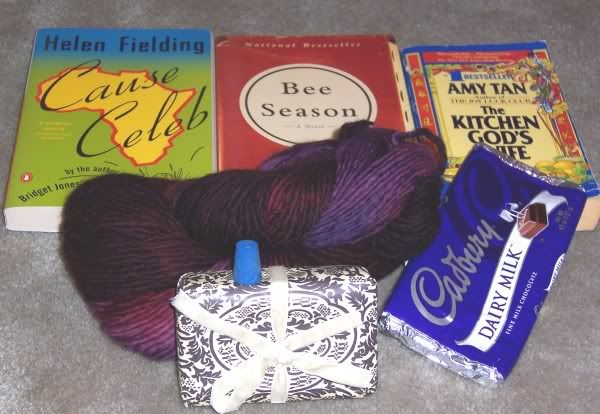 Three paperbacks, a skein of Malabrigo in Velvet Grapes (yummy!), a needle point protector made out of a lab stopper, a bar of soap (Orange Cinnamon) from Anthropologie, a big bar of Cadburys, the new Fon's and Porters magazine and a teddy bear (not pictured). Wow!!!! Wow!!! That's a lot of stuff in one box! Can I say it again? Wow!!!
The bear (not pictured) was snatched up by my 2 year old with a gleeful cry of "MINE!" before I had even finished unpacking the box. Do you think I could pry it loose from her arms to take a photo with it's box-mates? Not on your (my) life. It's very cute.
Isn't that the coolest quilt on the cover of the magazine? It's called a kaleidescope quilt becuase the blocks are made to look like what you see inside a kaleidescope. Slightly tricky piecing, but I may have to try it just for the technique. 24 different blocks, all from 1 (one) piece of patterened fabric. Very clever. 60" x 85" is twin size, right? If I start now, I could conceivably make this for my daughter's bedroom. She's still in a crib, but she is tall enough to climb out. Hasn't tried to do it yet, but its only a matter of time. She climbed out of a pack-n-play while we were on vacation last week. But quilting will cut in to my knitting time, and I wanted to make a quilted wall hanging for the holidays this year and I am never going to get everything done unless somebody unlocks the space-time continuum and gives me more than 24 hours in the day.
In other news, I finished the knitting part of Bamboozelle last night, and did a lousy job sewing up the side seam. I'll have to unpick it tonight and try again.