Ooh la la this yarn is posh.
That's a fancy word for fancy.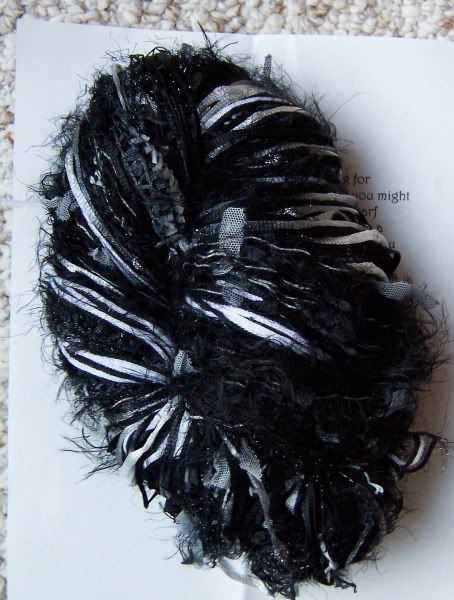 Pictured above is a skein of Feza Alp yarn in the black/silver colorway. It was a gift from my One Skein Secret Pal, who has sent me two very interesting skeins of yarn! The first was sock yarn by Cherry Tree Hill in the wild cherry colorway, the second is the novelty yarn shown here. She is really introducing me to some new yarns - this is a fun exchange! I have recently decided that the CTH yarn will become Pomatomous socks - and I will make them as the pattern says, top down, with whatever that kind of heel is called. I need to learn new sock techniques. So far I have only done toe-up short-row heels.
Recognize the title? If you have a little girl in your life, go get her a copy of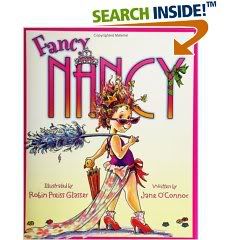 Fancy Nancy
by Jane O'Conner. Currently residing at #1 on my daughter's "must-read" list, this charming story about a girl named Nancy who loves to be fancy will amuse any little girl and her parents, even if they aren't so fancy themselves. Audrey is 2 now, and I think the book would entertain children up to about 5 years old?
A great book for the preschool set.
Knitting.
Yes, I am still doing some of that. I started the mate of the Regia striped sock shown a few posts down. It has been quite humid at our house, even with the A/C on, and the yarn was not exactly gliding over my bamboo sock needles last night. Very slow going, I think I added only about two inches in length to it. The Lucky Tank is finished, I think, and I will share it as soon as I get around to taking a picture of it!