20 inches of i-cord
That's all the knitting I did last night. Monday evening is always busy at my house. It's garbage night, recycling night and paying bills night. It was also bath night for the kidlet. So, not too much "me" time when all is said and done.
I also did some project finishing work - lining Bamboozelle. Here is a picture of the unlined basket. The SWTC Bamboo knits up into a pretty floppy fabric, even with the fairly dense basketweave stitch. It can barely stand up on its own.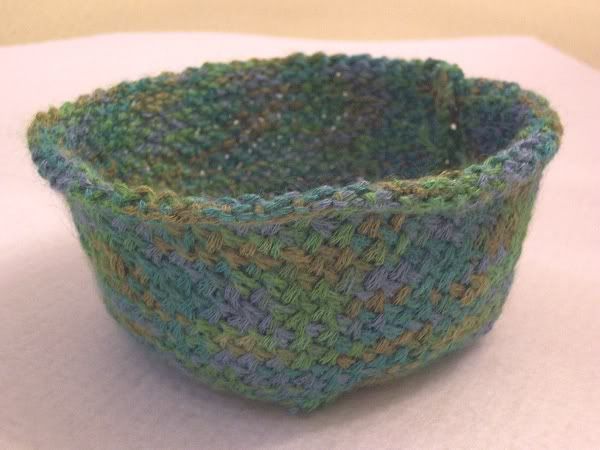 I made the lining out of a single piece of Pellon 70 interfacing - very nice stiff interfacing, yet easy to push a needle through. I did a simple running stitch to bring the sides together.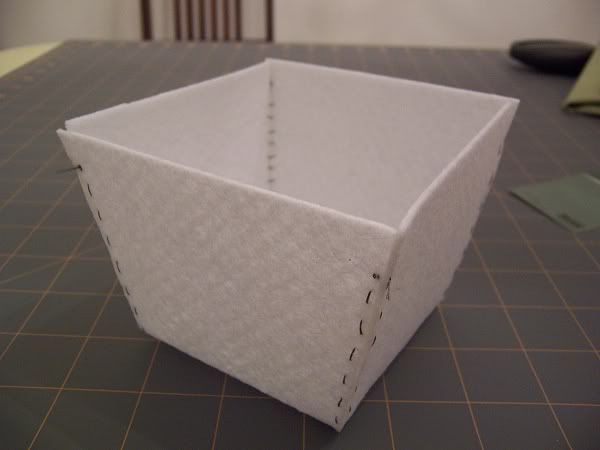 Then I sewed the lining into the basket, grabbing the yarn from the inside stitches and tacking it about 2 mm down below the upper rim of the basket. That will give me room to secure the inner lining into the basket. The remainder of the skein is sitting in the basket. Of the 100 g. skein, I have 70 g left! Enough for two more baskets. Except I don't like the color well enough to want to do that.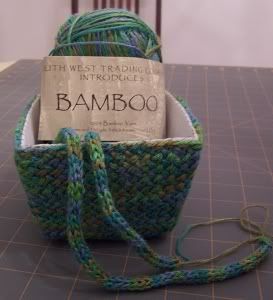 I think I'll attach the i-cord before inserting the fabric lining. That way I can run the stitches all the way through and really secure the basket to the lining.
The second Pomatomus is coming along - the leg is finished. After I get Bamboozelle finished and mailed off, I'll get back to it.