Knitting a rectangle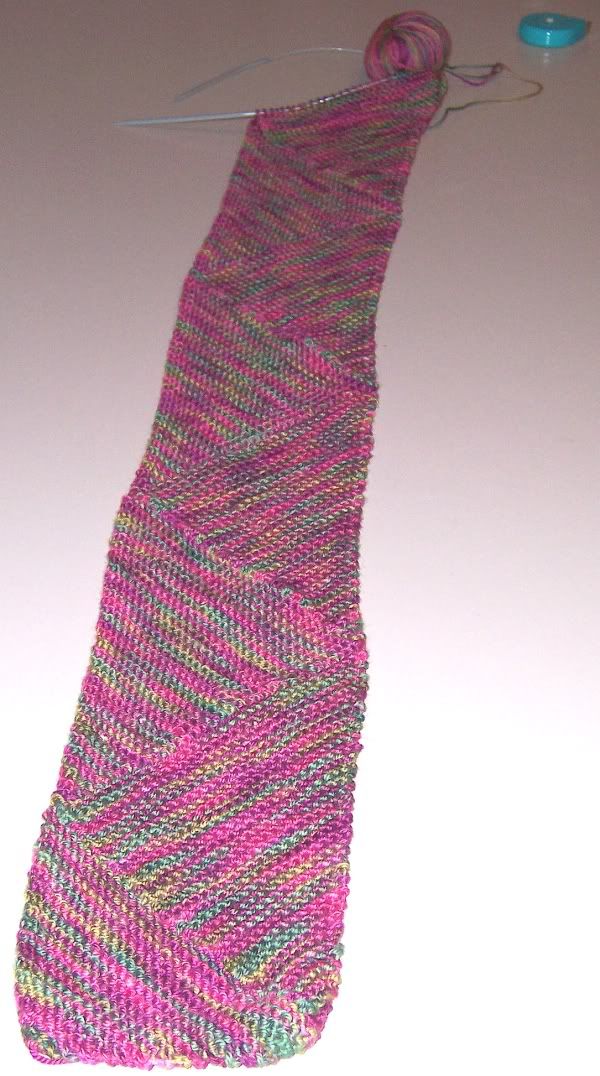 The scarf goes on and on and on…
I am getting a little bored with this scarf.
I like the way it looks, but its all garter stitch.
Short rows keep it from being entirely mind-numbing, and hopefully the diagonal construction will prevent it from stretching out too much, but it's basically an all garter stitch rectangle.
I measured it last night – 34" long and the remaining ball of wool has dropped under the 50% mark.
Woo-hoo!
The end is in sight!
After I finish this scarf, and kitchener up the toe of the second Pomatomus (remember the second Pomatomus?) I am not, repeat NOT, going to cast on a new project until the living room is painted, the curtains hung and a new valence sewn. Because that room is really depressing me. It's so close to being finished, nice new furniture, new lamps, some coordinating accessories. New wall color and window treatments would make it complete. Okay, a new carpet would really be nice too, but that isn't in the short term plans.
Next project on the drawing board? There are so many things I want to do. A distinct down-side to having a stash, I am discovering. I used to only buy yarn for the next project in line, but my friends at the Knitty Coffeeshop convinced me to buy buckets of beautiful yarn to keep around in case inspiration strikes. So now I've got a big under-bed box of yarn and not enough time to knit it!. Here's some of my ideas:
Malabrigo grape colorway - 1 skein. A winter hat I think. It sounds like it gets a little too pilly for a scarf, but it is so soft, I'm sure I can wear it near my face or neck and not itch.
CTH SuperSport – assorted skeins. I think I'll make all the blue-toned colorways into a feather-and-fan wrap. I love the way that pattern looks in variegated yarn.
Noro Silk Garden – 7 skeins. Enough for a Clapotis!
Noro Kureyon – 7 skeins. A vest? I'd like to try designing a garment on my own, and a vest seems a good first start.
Margaret Stowe lace – lace scarf for MIL.
From the Fall Interweave knits: the Sienna Cardigan. Other projects I like in this issue are Gatsby Girl and Coral Crossing (sans pockets). I'm leery of knitting a next-to-the-skin sweater though. I haven't had good luck with animal fibers next to my skin. Sometimes merino, sometimes cashmere, but even those aren't sure things. I'd hate to invest the time and money to knit a sweater and then not be able to wear it. The cardigan is designed to wear OVER another shirt, so I know I could wear that.
That's not the end of the stash of course, but those are the things that are calling out to me now.
Want to hear about the fabric stash? Nah, didn't think so.
We had a visitor on our porch last night.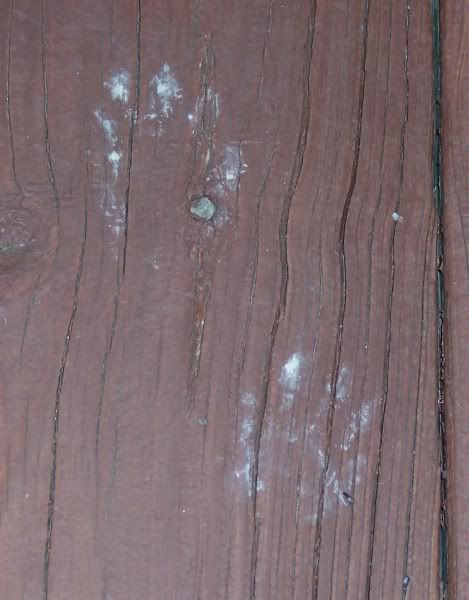 He (or she) forgot to wipe his (or her) feet off. A raccoon maybe? I've not seen any evidence (upturned garbage cans) in the neighborhood, but the prints seem a little wrong for groundhogs and squirrels, right?