Oooooh! Packages for me! Lots of packages for me!
This was a very good weekend for mail at the old homestead.
Not the mail I have been expecting - a work related letter that I mentioned last Wednesday.
How long does it take to write up a letter and mail it across town?
Come on, people!
I'm chewing my nails to bits over here!
Three, count them, THREE fiber-related packages! Can a woman ask for more? The first was from Ashley, who was my downstream pal on the Mellow SP round this summer. She knew I was interested in learning to spin and sent me a spinning kit - a CD spindle and an ounce of Corriedale roving to learn on. Thank you Ashley! There are good videos on www.icanspin.com and www.joyofhandspinning.com; I watched them all and promptly spun up a few yards of what can only be described as sewing thread alternating with piano wire. Waaaay overspun. I've got the drafting thing down pretty well though – some very thin stuff in there. Now to work on consistency and not overspinning. You can see some of my first attempts here: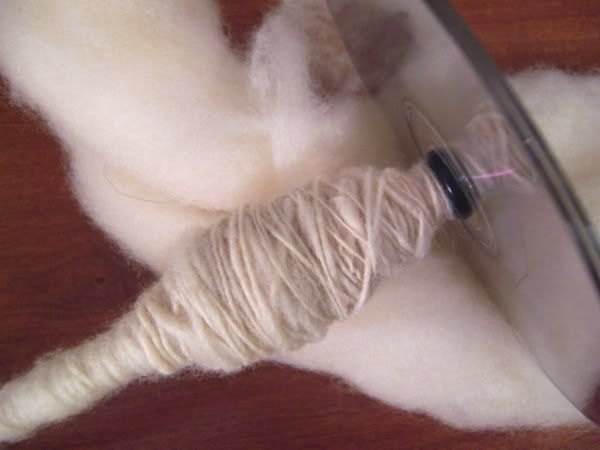 I'm not even sure I am going to try to ply this.
The second package was from "bemily" over at the October Knitted Things swap (aka hutchart on knittyboard). In this swap, you knit up something warm for your pal, and send it out by Oct. 1. She made me a tam a la Elizabeth Zimmerman and a scarflet based on Knitty's Flora. The yarn is by Suss, and is 100% alpaca. Mmmmm, alpaca! Very cute hat. I've seen this pattern in EZ's books and never tried it because I never thought it would look good on me – but it does! Here is a photo of the scarf and hat modeled by my coffee table so you can see the spiral pattern on top of the hat. As soon as I get a non-blurry photo of the hat on my head, I'll post that as well.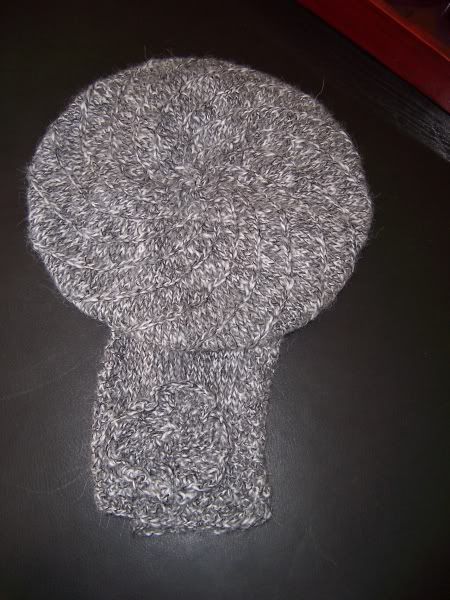 The package also included a bag of loose "Thai Lemon" tea leaves, and a bar of "Alkmaar" soap from Lush. I love Lush products. There is no Lush store here, so I always make that a bit of destination shopping when I am in a city that has one. In the US, it seems to be restricted to big cities – NY, Boston, SF, etc. In Canada though, they seem more common. Last time I was in Banff (small town, big tourist destination) I stocked up – it helps when the exchange rate is $1.40 CDN/$1 USD. Not likely to see those rates again for a while, are we? Thank you so much bemily!!! I love it all!
Wait, wait, there's more!
The last package wasn't unexpected – I ordered it myself. My very first Knitpicks order. The main purpose was to get a bunch of their color cards, since it seems like many people are mentioning that the colors on the web are quite different from the colors in real life. But I can't pass up free shipping now, can I? I ordered 4 skeins of Essential sock yarn (two burgundy, two ash), and one of Alpaca Cloud laceweight in Moss. Final bill: $41.96. Free shipping! The sock yarn feels much softer than many "inexpensive" sock yarns – I can't wait to knit up some socks and see how they feel.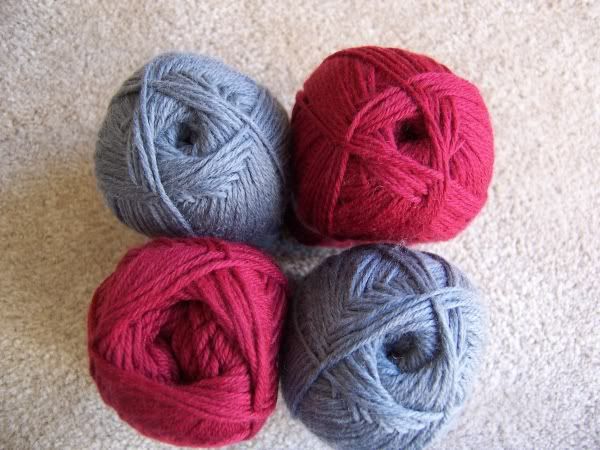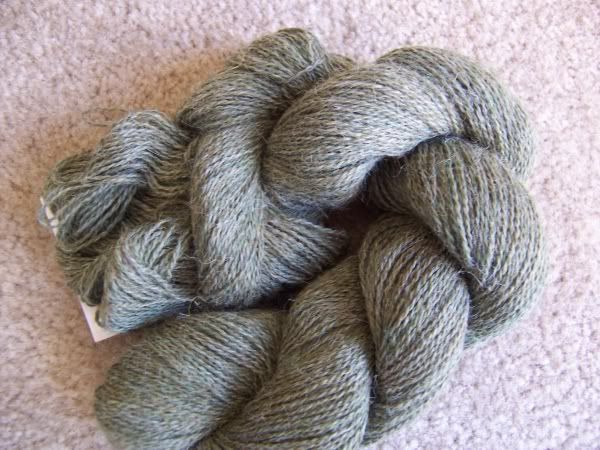 Phew. I'm just giddy with it all! So wonderful to get mail that isn't bills in the old mailbox. I sent out my October Knitted Things swap item last week, as well as a few RAK's – so watch your mailboxes too!
Lest you think I've given up knitting to open boxes:
The Clapotis is (estimated) 9/14 of the way finished.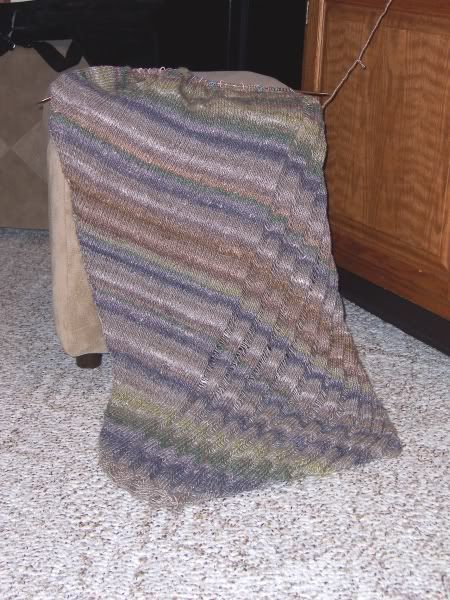 Gratuitous Kitty Nap