Alles Fertig!
C'est Fini! Stick a fork in them - these socks are done!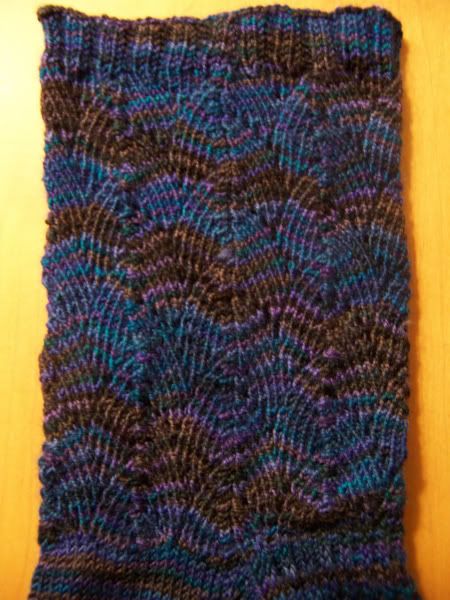 Pattern: Tumbling Shells
Source: me
Yarn: Cherry Tree Hill Supersock Merino, Tropical Storm
Needles: US 1, bamboo dpns
Pattern notes and lessons learned: I designed and knit these socks for my
Knitty
Sock Swap pal, Stephie26. They were toe-up (short row), with a
Widdershins
-style heel. Leg pattern based on "Shell Lace" in Barbara Walker's "A Treasury of Knitting Patterns", Schoolhouse Press 1998, p. 209. Modifications: all knit stitches are ktbl, except into yo from row below, which is knit into the front of the loop. To knit in round instead of flat, every odd row is knit, not purled.
This pattern ended up not having a lot of lateral stretch. Pretty, but I will have to wait for Stephanie's report as to how well they stay up (and if they fit!) Our feet being different diameters, there was not much point trying them on as I went, except to confirm that our feet really are different sizes.