Squee!
I have the best SP! Look what was waiting for me when I got home from vacation:
Lorna's Laces Shepherd Sock in Mixed Berries, some hot pink roving,
And...
Snacks! Pomegranate hot tea, instant iced tea (blueberry and peach), fruit gummy snacks, orange chocolate, and a box of votive candles in an intense "Midnight Bloom" scent. Which translates into (French?) as "Plante Carnivore". Carnivorous plant. Not quite as romantic as midnight bloom, but more practical from a personal safety point of view.
Sense a theme here? I think this is Fruits and Berries month! In addition there was a "merlot" tinted lip gloss. (Think grapes)
What a lucky girl I am! My SP has really outdone herself - I need to "pass it on" and hit the shops for my downstream too - one more package to go!
And in spinning news: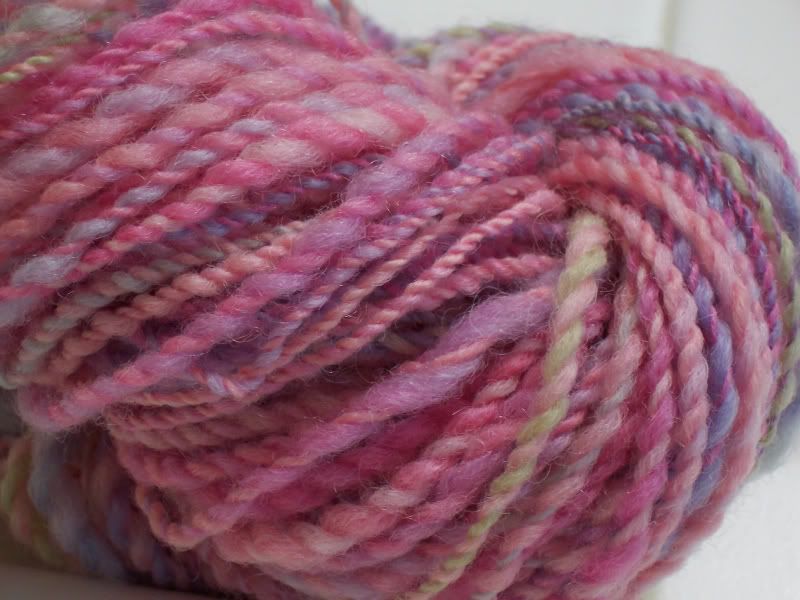 I got about 200 yds of 2 ply yarn from my 4 oz of roving.
I finished (almost) my second Jaywalker sock over vacation. All that's left is to Kitchener closed the toe. Next post, I suppose.
Up next? Yikes, so many choices! I ordered the yarn (Andean Silk) for the Minimalist Cardigan (IK Fall 2007) and it arrived Saturday. But then, I have this new sock yarn to drool on, as well as some equally drool-worthy STR sock yarn from the Sock Swap this past spring. I bought 3 more skeins of sock yarn over the summer - tofutsies, Crystal Palace cotton, and Regia Bamboo - but those are going to wait until late in the winter, to be ready for cool summer socks. Rummaging through my list of projects to do - I see a couple of quick scarves and hats that I may push ahead of the cardigan. Oh yeah, I promised Audrey a new winter sweater too.
And there's still plenty of fiber to spin!
Later!