The things we do for love
We knit with eyelash yarn, held doubled, on size 10.5 needles.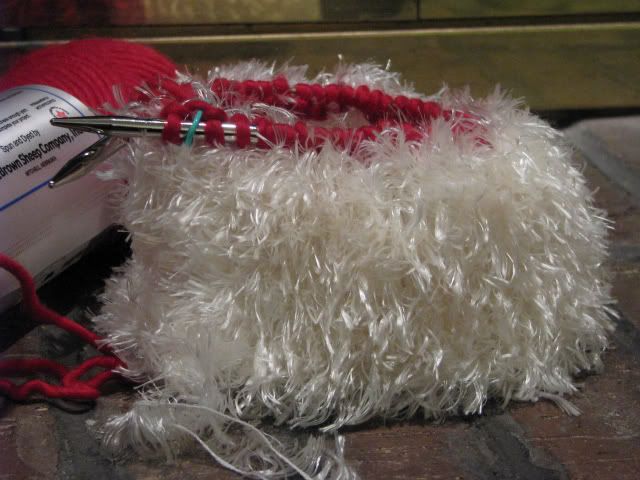 Can you tell what this is going to be? A Santa hat of course! Somebody in my MIL's choir decided they should all knit these hats for the 2008 Christmas Mass, passed out copies of the "pattern", and gave them a 10 month lead on the project. So, my MIL went to her LYS for assistance picking out yarn (the yarn in the pattern has been discontinued), and needles. The LYS employee was a bit concerned because the pattern HAS NO GAUGE! but figured out that it must be bulky, because the whole thing starts out with only 50 sts around. It think the yarn subs were actually pretty nice, and the eyelash yarn does have a very soft "knitting a small animal" feel to it, but after a few inches into the crown of the hat, it is very obvious that this is way too small.
The visit is over, and MIL is taking the mess back to her LYS to see if this project could be salvaged with larger needles. My recommendation is to frog and start over, but then, I won't be the one frogging 50 g of eyelash yarn, held double. Oy.
And in small needle news - new socks! These were a speed record for me, only 11 days for the pair. Very basic toe-up (
Judy's magic cast on
),
short row heel
construction. Yarn: Regia Bamboo, Needles, US1.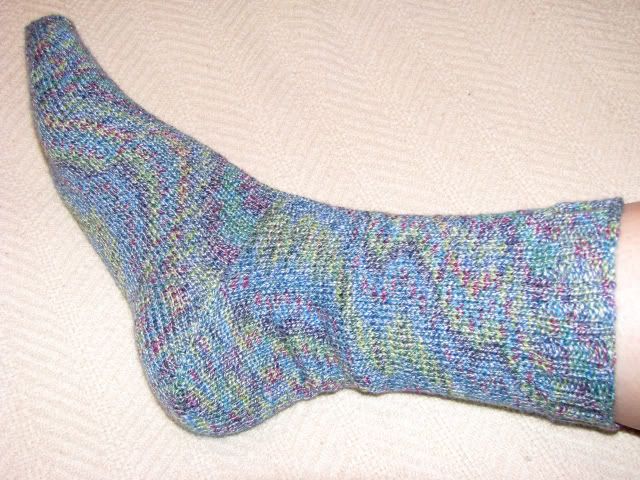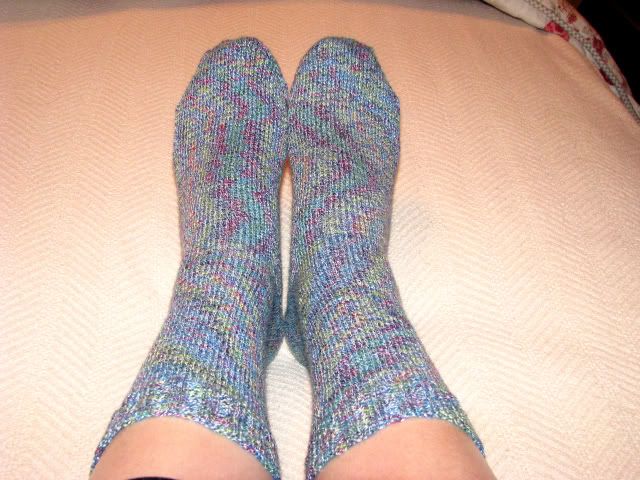 Cool pooling in this yarn, more vertical than horizontal, and very subtle. I don't mind it at all and really don't care that these socks are fraternal twins. This yarn has been in my stash since last summer. I bought it on vacation in Michigan (store has since closed).
And, some snowstorm knitting (we got over 12" since Friday afternoon):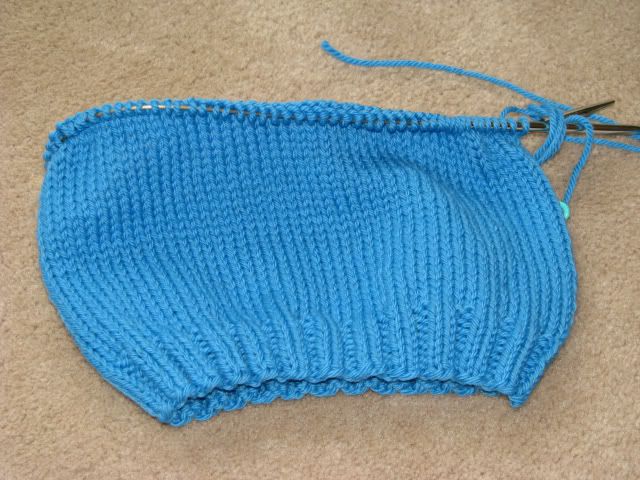 A simple blue raglan sweater in KnitPicks Swish Superwash in Capri. Leftover yarn from
Audrey's Aran
. I bought 7 balls for her sweater and only used 3.75. I'm aiming at ~18 month size for this one to use up the remaining 3+ balls. It will go to charity.
That's it! Besides shoveling the driveway (our plow guy could have made a fortune this weekend if he had bothered to show up), and cooking meals for my snowbound family - it's been a pretty quiet week here.
Bye!