Two planes, 5 skeins of yarn
So, I overpacked for vacation. I brought three projects.
We headed out from Grand Rapids on Thursday, after a massive storm Wednesday blacked out power to 200,000 western Michiganders (Michigandites?). Not a massive problem usually, we've got lots of flashlights (DH works for the Bunny), and my in-laws have a gas stove and plenty of matches. What we didn't plan for was the well. Without power, they have no water. And since we really wanted to shower before embarking on a two-plane, one-train, one-bus, nearly 24 hour (including time difference) journey, we headed first to my SIL's, who DID have power. And water, being that they live in a subdivision with city water supply.
Squeaky clean, we head out, stopping at Panera for lunch, then the library for Audrey (she spent the week with Grandma and Grandpa), then the GR airport, about an hour away. At the airport, I realize I left my fleece jacket at the SIL's. Sigh. No way to get it now.
Quick flight to O'Hare, then board the plane to Manchester. I pull out project one,
Tidal Wave Socks by SWTC
. I didn't actually bring the pattern with me - I memorized the lace pattern before I left. Yeah, right. And while looking for the link for the free pattern just now, I see that it has disappeared. I sure hope I downloaded it somewhere.
As you can see here, I'm getting serious pooling issues with this yarn. I'm sure its because I'm working at 72 sts/round. The pattern is suggested on size 2 needles/64 sts per round, but I prefer the fabric I get on size 1 needles.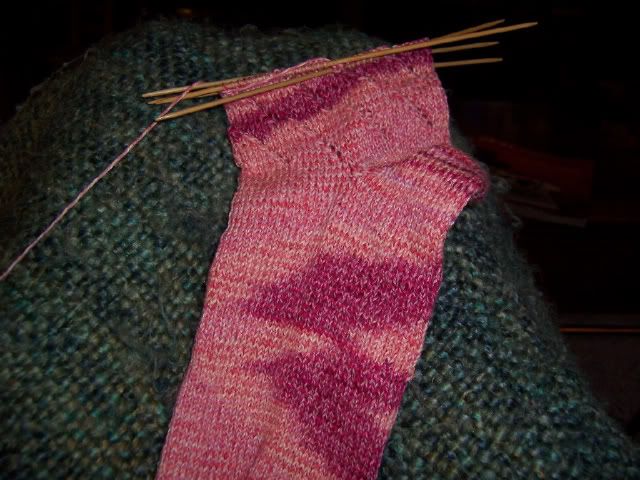 I realized at this point (day 2 of trip) that I have not successfully memorized the lace pattern. Meh.
We arrived in Keswick, Cumbria and checked into our B&B,
Cranford House
. We were way early for check-in, but we had emailed ahead to Carol, the owner, and she got our room ready early for us. Except for the air and land travel, the entire trip was organized by
Mickledore Travel
. I can't say enough good things about the company. We've never been to the UK before, and they were so helpful. They run inn-to-inn self-guided hiking tours around England. They booked all the B&B's, provided TOPO maps with our route highlighted, detailed written instructions to accompany the maps, and moved our luggage each day to the next B&B. This is civilized hiking! We also arranged for a bag lunch each day from the B&B, so we just packed up our suitcases, left them in the hall, and headed out on the trails. When we reached the next B&B, our suitcases were waiting for us, along with dry clothes, a hot shower, and pot of tea.
Being a tea drinker, I really fell in love with England. They make much better tea there than we have here.
Friday (first full day in England) was actually sunny, so we wandered around Keswick and tried to stay awake to avoid the jet lag on Saturday, first day of hiking. Cute town. From the looks of it, there are only three types of businesses in this town. 1. Own a B&B. 2. own a restaurant. 3. own an outdoor-outfitter store (hiking/camping/climbing supplies). But this suited us just fine.
We walked down to the lake. We saw sheep. Unaware that we would see many, many more sheep before the end of our vacation, we took pictures.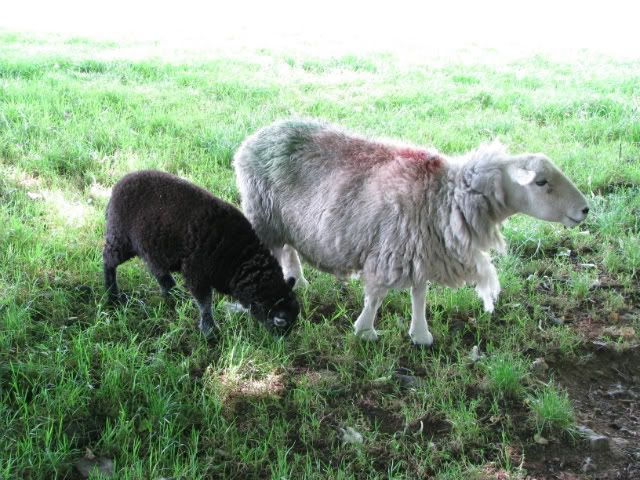 In retrospect, this was a good idea. These were the last dry sheep we saw for the next 6 days.
Bye!