Okay baby, you can come out now!
I told Michelle she could have her baby now - I'm all done knitting.
The Starghan from the last post is for the new baby; Elijah is a gift for the big-sister-to-be.
Is he not adorable? (And no, I have no problem with a pink boy elephant. After all, Lumpy the Heffalump was purple.)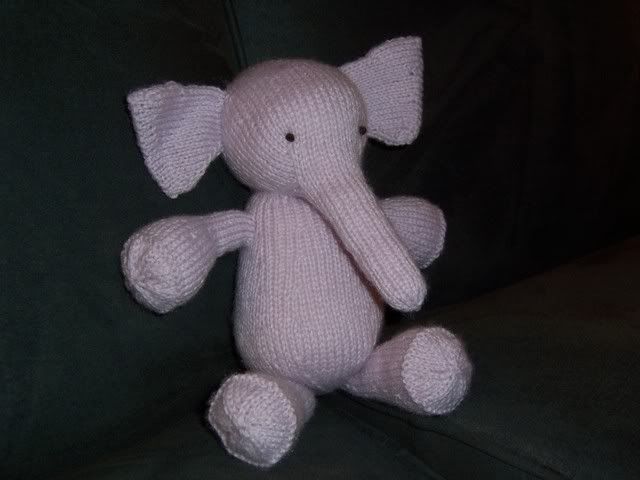 Pattern: Elijah, by Ysolda Teague
Source: downloaded through Ravelry
Yarn: Bella DK (Universal Yarns), 1 skein, light pink
Needles: US 3
Time to completion: 8 days, including one day I didn't work on it because I had no stuffing available.


Pattern notes: A wonderfully written pattern, no mistakes that I could find, and crystal-clear in the directions of exactly where to pick up the stitches for the arms, legs, and ears.

Next up: Little Blue Sweater by Simona Merchant-Dest. Swatch, swatch, swatch. Turns out I will be doing the whole sweater on size 11 needles, rather than the recommended 9 and 10.5. Unless my tension loosens up midway, which has been known to happen.