Mini-me!
Umm, well, if I had blond hair and blue eyes. But other than that....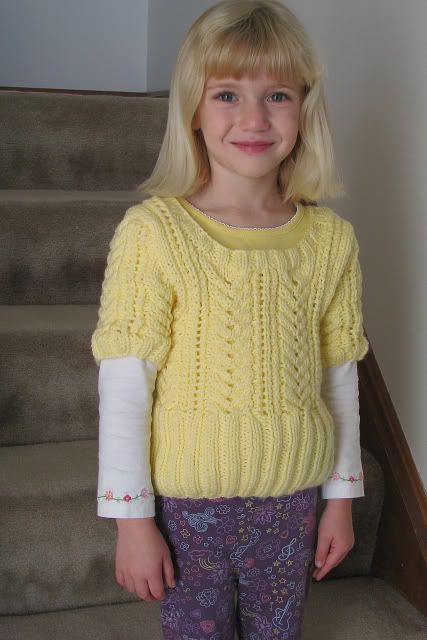 Pattern: Little Blue Sweater
Designer: Simona Merchant-Dest
Source: Interweave Knits Fall 2008
Yarn: Reynolds Utopia
Needles: US8
Pattern mods. Quite a few, obviously, as the smallest size is for a full grown woman and Audrey most definitely is not. The pattern calls for bulky yarn and big needles. I swatched worsted yarn on size 8's, and the gauge worked out to 70% of the pattern gauge. Then I measured up my daughter and found she is about 70% of a woman's size Small! I eliminated the selvedge stitches to work this in the round, and raised the neckline a little. Of course I had to adjust the vertical dimensions too. But otherwise, just followed the pattern! No tricky math to make the cables land where I wanted them or anything. Even the sleeve caps worked out as expected!