Past and Present and the bridge between
And so we begin a new year - 2010. I suppose I should say something deep and meaningful about turning 40, or my daughter starting kindergarten, or the state of the world.
Nah.
After the crazy knitting race that was DH's hat, I exhaled, and started the second Wanida sock. Started after Christmas (like the 26th, I think) and finished easily before the Ball dropped on Time's Square. I wore them yesterday actually - very comfortable! I like the yarn (Plymouth Happy Feet) a lot. I'll find out how it washes this weekend.
The Past - the last complete project of 2009: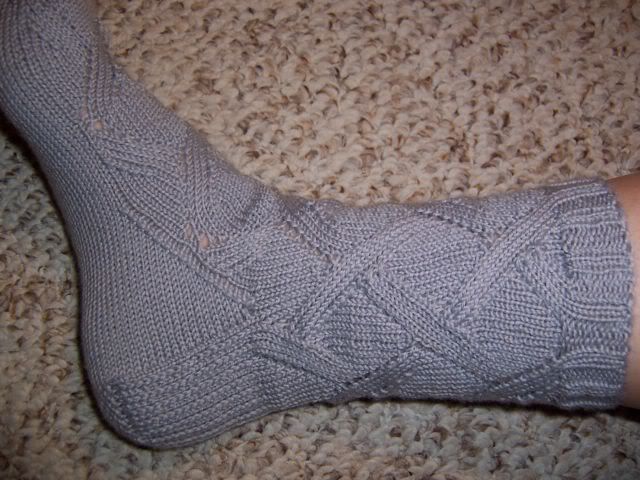 Pattern:
Wanida
Designer: Cookie A.
Source: Sock Innovations
Yarn: Plymouth Happy Feet
Needles: US1
Pattern notes and mods: none. Her patterns are so well written, I have no need to tinker.
The Present: the first project started in 2010: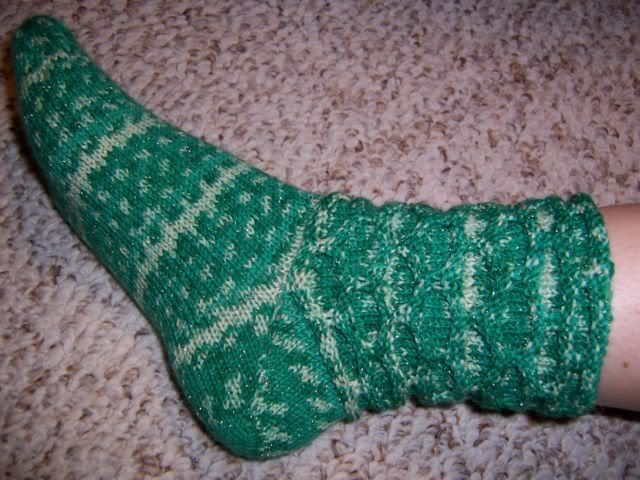 Pattern:
Circle Socks
Designer: Anne Campbell
Yarn: Wisdome Yarns Marathon Socks, North Pole in Elf
Needles: US2
Pattern notes and mods: cute pattern for striped yarns - the slip stitches hide a world of self striping funk. I also made these toe up (Judy's magic cast on, short row heel).
The Bridge between: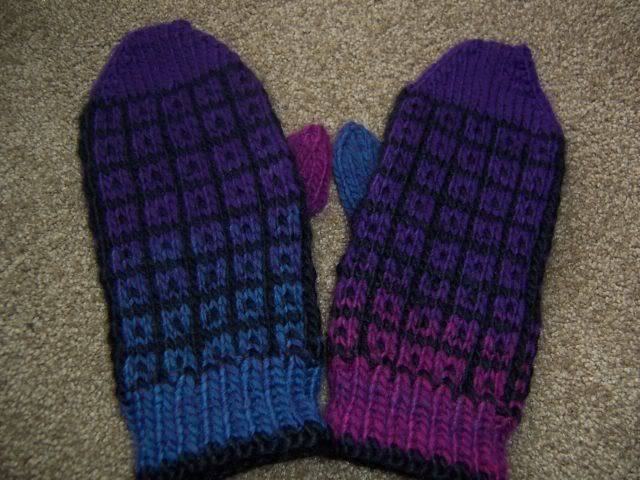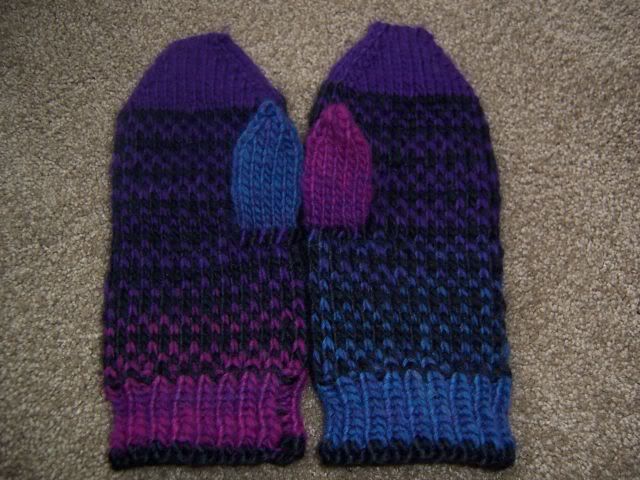 Pattern: Aurora Borealis Mitts
Designer: me
Yarn: NY Yarns Gypsy (#1) and Lamb's Pride Bulky (onyx)
Needles: US8
Inspiration: the Northern Lights as viewed from the
Hill of Three Oaks
and my wish for truly warm cozy mittens. I've been oogling beautiful stranded mittens on Ravelry, but I couldn't help thinking - I don't care how many stitches per inch you knit - fingering weight mittens just aren't going to cut it when sledding with my daughter in 20F weather. And like a flash I knew what I was going to do with the two skeins of Gypsy in my stash.
I had to use both skeins and do a little color sequence editing to get the colors to come out like they did, but I love them. And yeah, they're warm.