Finally Winter!
Week 3/52
Can't believe it's the third week of January and I'm finally saying that, but we have snow! Enough to bring our plow guy out here three times since Friday! And the drifts on the deck are probably knee deep, so I guess that counts. Of course, tomorrow is supposed to be 45F; it will all melt. Then snow again on Wednesday. Of course.
Weight: Goal + 8 lbs. As of this morning. After the slab of chocolate cake my Mom bought after dinner, probably not so much any more.
Knitting: finished a couple of projects! Photography lagging behind (surprised?) but this week - I bring you Vitamin D!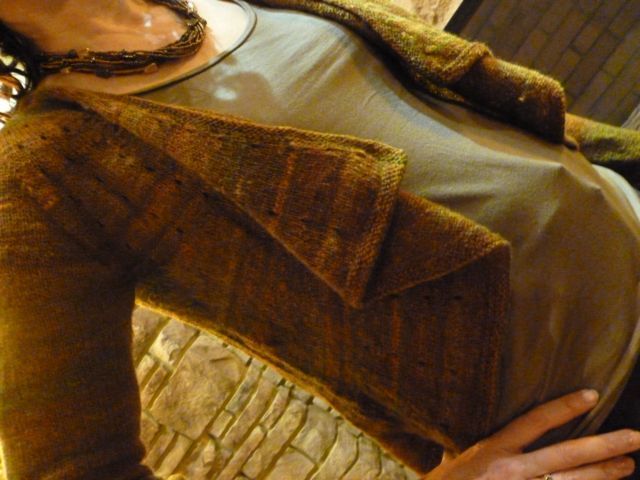 Pattern: Vitamin D
Designer: Heidi Kirmaier
Yarn: Briar Rose Fibers Polwarth, handspun


This sweater has been a long time coming. I won a "stage" of the 2010 Tour de Fleece, and chose a shop credit at Briar Rose Fibers as my prize. I added some extra and ended up with 9.5 oz. of beautiful dyed Polwarth fiber, which I spun up on my Golding spindle to 1310 yds. of laceweight/light fingering 2-ply. That took about 6 months, then I set it aside until last Fall. Started knitting last October, and finally seamed it up just after New Years. Phew!
Will I spindle-spin an entire sweater again? I don't know. But it was a major accomplishment and I'm glad to have tackled it once.
Cooking: nothing too fancy this week - it was a busy week with two skating lessons, a swimming lesson and a Brownie meeting. Made a nice
Asian vegetable/tofu stir fry
with noodles instead of rice, and an
awesome pot roast
with mushrooms and balsamic vinegar on Saturday once my folks got here.