Vellamino!
Week 4/52
Winter? Well, we've had plenty of snow. And rain (which melted the snow). And wind (which removed a 4 ft. section of gutter from our house). Crazy weather! It just hasn't gotten cold enough to motivate me to put the thumbs on the Bird in Hand mittens I started last year. They are thick and dense and probably wind-proof as well, but they are going to be crazy warm and best suited for going to the sledding hill. Which is just a rain-soaked, mud-covered grassy hill at this point.
Finally got my Winter 2011 issue of Interweave Knits! They said they mailed it November 21st. After a month, when everybody else on Rav said they had gotten theirs, I emailed and asked them to send it again. Another 20 business days go by, it comes in a manila envelope. Yay! Then a couple days later, the original shows up. WTF? Really post office? 2 months? According to the Interweave site, they are mailing the Spring 2012 issue today. I'll believe it when I see it.
Work in Progress: the Argus Shawl, in alpaca laceweight. DH gave me this yarn for our 13th anniversary (traditional gift: lace – I asked for the DIY kit!). It's lovely, but quite slippery. Still, I'm on chart C and getting about 3-4 rows done every night.
Work finished: Vellamo socks.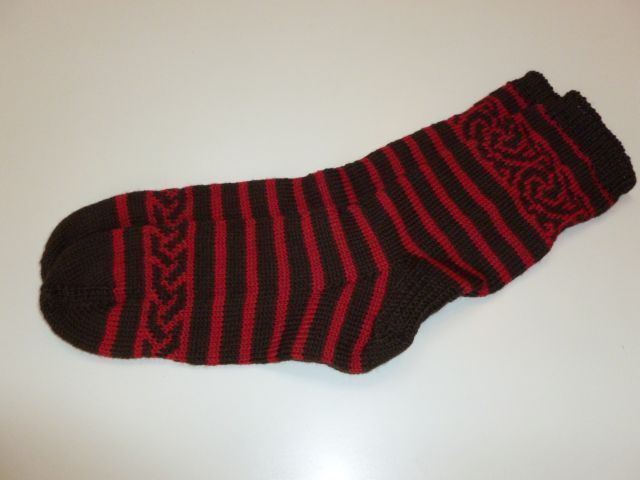 Pattern: Vellamo
Designer: Taina Anttila

Yarn: Cascade Heritage sock yarn
Needles: US 1
Modifications: I wish I'd gone up a needle size in the colorwork areas. Also, made the stripes 5 R MC/3 R CC due to having much more of the brown available than the red.

Trying something new: Jillian Michael's 30 Day Shred program. I'm on Workout 1, easy modifications. Oh my aching muscles! Holy crap this is tough. My goal is to finish all 30 days in under 5 weeks – so far I have only missed 2 days – day 2 because I couldn't flipping move my arms and legs when I woke up, and Sunday because I was too darned busy with other things. I'll probably miss Tuesday too because I've got a skating lesson, but I'm not sure if I should count that. It is still a good workout (thighs, calves) although not quite as cardio as it could be.
Weight: goal + 8 lbs. Was briefly goal + 7 lbs, but splurged too much over the weekend.