Done!
Week ?/52. I'm useless at this numbering system. Valentine's week!
Another project done for February is for Finishing. Cha-Ching!
Here's my Bird in Hand Mittens - yarn is Shelter, by Brooklyn Tweed in Fossil and Almanac. I used about 0.5 skeins of the white, and just a skosh over 1 skein of the blue. Arghh! Increases project cost by 50% - was not planning on buying 3 skeins of this yarn for mittens! But, I think I have plenty left over for a matching hat, so not a complete loss.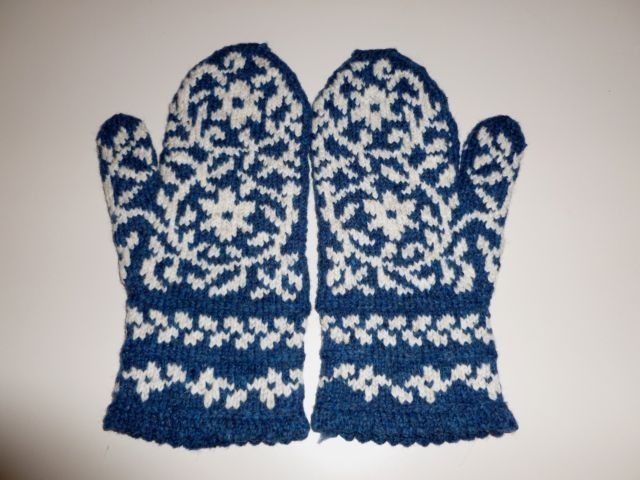 Pattern:
Bird in Hand
Designer: Kate Gilbert
Yarn: Brooklyn Tween Shelter
Needles: US1
Try something new: crock pot chicken parmesan. You can find variations of this recipe all over the web, I won't repeat it. Verdict: BIG FAIL! Provided many giggles for my 2nd grader though as she watched me try to fit a large (frozen) oval chicken breast into a small round crockpot this morning. I went with frozen because there are 10 hours between leaving for work and sitting down to dinner, and I needed to add a couple hours on to the usual "6 - 7 hours on low" crockpot instructions. I breaded the breasts last night and froze them, stacked, (big mistake) in a container. Then this morning I could not separate them. And they were too big to fit flat on the bottom of my crockpot so I put them in propped up diagonally. The cheese I layered on the chicken all slid off and fell into the sauce. Oh the mirth!
It tasted okay though - just looked a disaster. One blogger claimed her dish was worthy of serving to company. If you are company at my house and I serve you this hot mess, well, you will know what I think of you.
Weight: Goal + 7.5 lbs. Endurance is up, upper body strength modestly improved. Pants a little loose today!