Time is speeding by!
Whoops - almost a month since my last blog post. Too busy! Too busy cranking out a great pair of
Monkey Socks
for Mother's Day, carrying them all the way to Chicago so I could block them in my hotel room and mail them to Mom in time for Mother's Day, then popping them in an envelope and tossing them in the hotel mail drop BEFORE I remembered to take a photo of them. Damn. Double Damn. I dragged the stupid camera all the way to the
Radtech 2008
conference (which was very educational, BTW) and I forgot to photograph the danged socks. They were in Lorna's Laces Shepherd Sock in Mixed Berries, a gift from my Secret Pal Sarah last summer. There was quite a bit left over - maybe minnie-Monkeys for Audrey?
The Lazy Kate is finished, and wow - does it make plying a world easier.
I plied up the second Lettuce Knits dyed roving I bought last October on my trip to Toronto - you can see the two roving hanks below, and the yarn they became.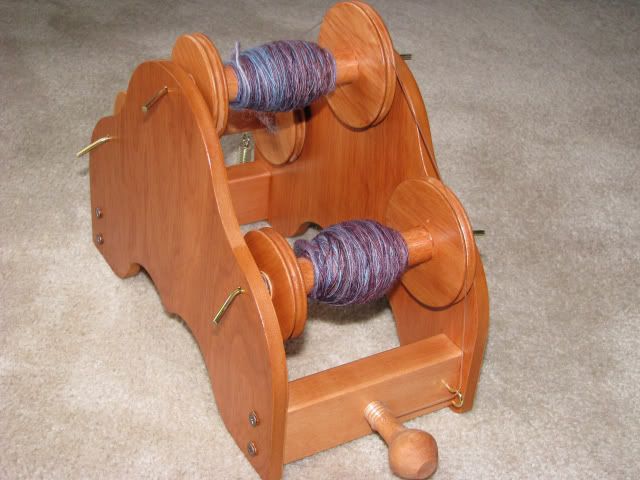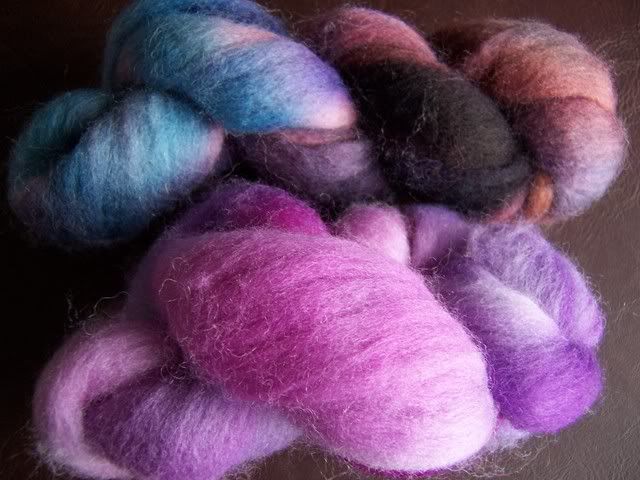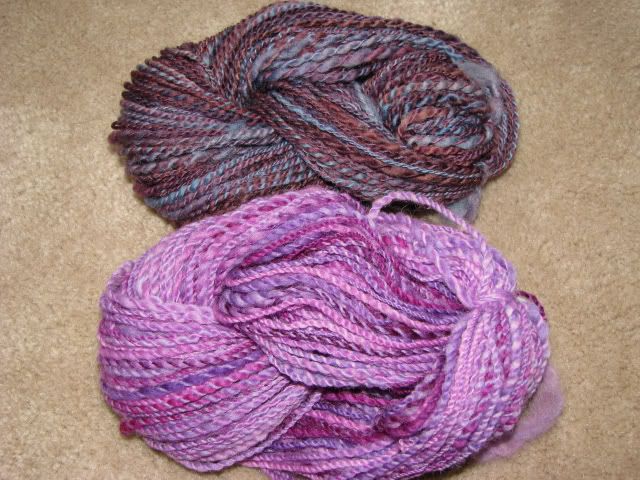 I'm starting to accumulate a small pile of short (<100 yd) hanks of homespun. No idea what to do with it.
I finished Audrey's summer sweater: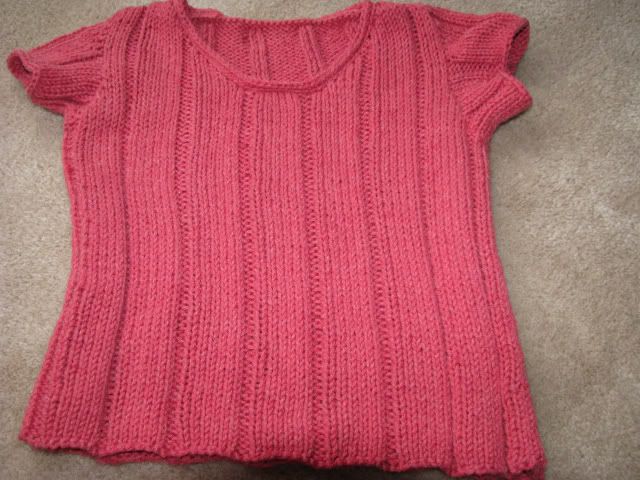 My thoughts? A little loose in the gauge. I don't think it will wear/wash as well as last summer's sweater. And she lost interest in it shortly after I finished it. I think I may stick to winter sweaters for her for the forseeable future. It's only in the 60's here, and she's already wearing T-shirts. She'd be in shorts too, if I let her. Brrrrr. I'm wearing a long sleeved twin-set today. I can't imagine baring my arms below about 75 F.
What's on the needles now? Nada. After my initial rush of excitement over the Summer IK issue, I decided there isn't really anything in there that I really want to make. The Apres Surf Hoodie is my top choice, but when I look at the yardage, I realize for my size, that's like making 8 identical lace socks, all in the same color. Nope. The Wakame Tunic is fascinating from a "Damn that's challenging" point of view, but I showed it to my co-workers in the lunch room and had to admit that it does look a lot like Grandma's lace tablecloth. I'd be better off tracking down a Niebling tablecloth pattern and making a real heirloom. (Check out the beautiful FO's on
this web page
. I am just in awe.) And the rest just don't really appeal to me. I may go back to the Spring issue and re-visit my favorites from that.
I can't believe it's mid-May already!