Happy Thanksgiving!
It is now a mere two days before the annual American holiday in which we eat too much, then watch football. This could actually be any number of calendar days, such as New Year's Day, the Super Bowl, or the Michigan-Ohio State game, but this week, it's Thanksgiving. The Michigan-Ohio State game is on Saturday - that's 4 days from now.
We're spending the day with my in-laws. Just a small gathering - four adults and one child. Should be pleasant! I'm bringing stuffed mushrooms for an appetizer.
Knitting wise - I'm trying to finish up a baby blanket before my sister-in-law finishes up the baby! Baby D. isn't technically due until the end of December, but is likely to arrive at least a couple of weeks early. I'm using my Knitted Starghan pattern again, but modifying it to be mostly stockinette, with a few thin bands of garter done in a speckled print yarn.
I got a late start on the blanket because I was making Audrey a cardigan for the winter. She asked for a zip-front hoodie this year - look what I found on Ravelry!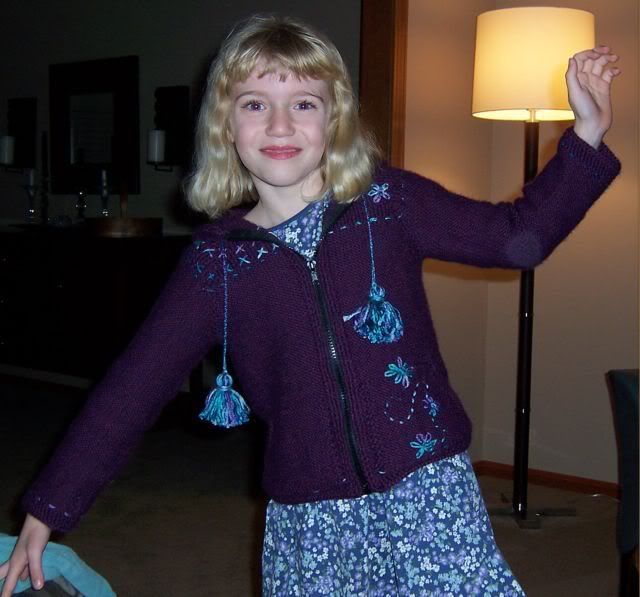 Pattern:
That Weasley Girl
Designer: Jacquelyn Landry
Yarn: Berroco Vintage
Needles: US 7
Such a cute pattern! It's based on the sweater Ginny Weasley was wearing during the World Quidditch Finals in Order of the Phoenix. And get this -as I cast on the sweater, there was a HP movie on TV! Okay, on our cable provider, there is always a HP movie on some station, but it makes a good story, right?
I've got a pair of Wendy Johnson's Wrought Iron Socks on the needles, started just before a business trip - good airplane knitting.
And my best fall project - plain stockinette socks!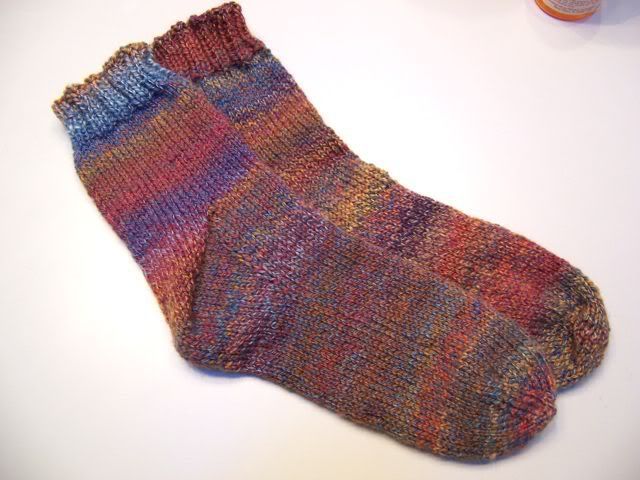 I call them Shades of Fall. Handspun yarn! It's dyed Corriedale from
Sheepish Creations
(I can't remember the colorway, I bought it last year.) It's a three ply, sportweight.
Assuming I finish the blanket and the socks before New Year's Eve - I'm at 24 projects for the year. Phew. I'm tired.