Another business trip, another crisis
Well, not quite a crisis, it's just a headlight bulb on my car burned out. Of course, it's also been temperatures in the mid-teens here, so just a
leeetle
too cold to go mucking around in the garage replacing it. DH is in Vermont this week, of course. Has anyone else noticed the correlation between how far away he travels and the size of the challenges on the home front?
Singapore trip #1 – record breaking snowfall
Singapore trip #2 – broken sump pump
Vermont – car headlight down
In happier events, Audrey had her first "Level 1" swim class last night. No parents! She was really nervous about it yesterday morning (after counting down the days to class since January), but once she got there, she was fine. Very well staffed class – 8 students, 3 teachers, and 1 lifeguard dedicated to the class. He sat in a deck chair right behind the students the whole time. There's the usual collection of lifeguards in the high chairs by each pool area, but this class (the only class of not-yet-swimmers) gets its own guard. Looked like she had a great time. I got to sit on the side and watch. Next week I will remember to put on a lighter shirt before going over – it's around 84F and humid on the poolside – that cabled sweater was a bit uncomfortable. And that was cotton!
I finished up the Morning Surf scarf with my handspun – looky! Unfortunately, overspun and a bit itchy. It will look good on the outside of my coat though. I'm proud of it anyway.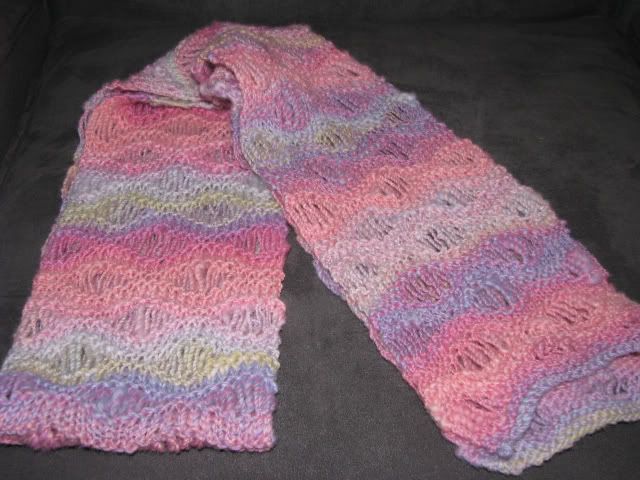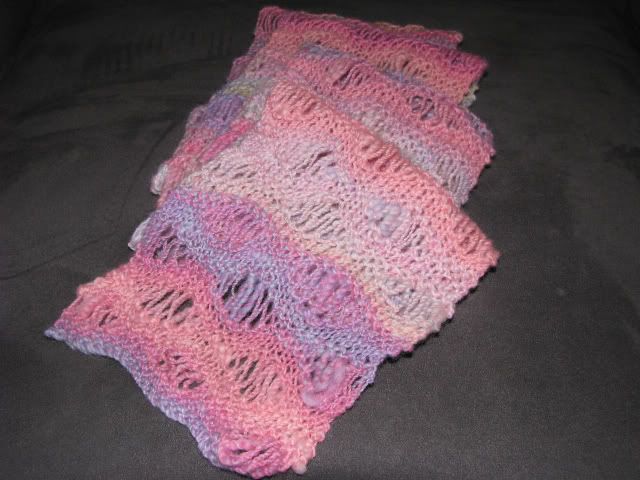 Those of you who saw it on my Ravelry page see I've named it my "Won't make a monkey out of me" scarf. Why such a long name for such a simple scarf? Well, here's the story. About two years ago, in the summer of 2007, I participated in a Knitty Secret Pal swap. It was a three-month swap, and as I am typically very busy, I did all my shopping up front as soon as I got my downstream pal's info sheet. There's a $20/month suggested minimum for these swaps, but typically I think people send more generously. I know my upstream pals have always been quite generous to me, and I like to pass it forward. Among the things I bought was the CTH merino roving. It came in a 8 oz bag, $25. I also bought a $16 candle in her favorite scent (most expensive candle I've ever bought, and went to 3 stores to find it), along with yarn, candies, etc, etc. Enough to more than fill her three boxes. First box goes out (can't remember what was in it). Weeks go by, I'm nervous it's lost in the mail. Downstream hasn't replied to any of my chatty getting-to-know-you emails. Finally I ask point blank if she got the box. Oh yeah, she did, thanks. As month two nears the end, still like pulling teeth to get any communication with this woman. I'm kind of thinking I would rather just cut her a $40 check for the remainder of the swap and be done with it. Isn't the whole point of the swap not just to get stuff, but to make a new friend? I'm not so enthusiastic about sending that whole bag of roving now. Sure, it would fulfill the minimum for the month, but I can't send just one item. And by the time I fill up the box, I'll be way over what I want to send her. So I split the roving in half, and kept 4 oz. for myself.
About 6 months later, my downstream swap partner died of a chronic illness.
About 1.5 years after that, she rose from the dead. With a new username. Turns out she wasn't so dead after all.
I don't feel so bad about keeping that roving anymore. And the candle smelled delicious too.