Happy Thanksgiving!
The guests are gone, the turkey (almost) eaten, and one last slice of pecan pie awaits me in the fridge. A very nice Thanksgiving Day spent here at home with my in-laws. All the food came out tasty, albeit a little cold. Is it even possible to get all those things to the table piping hot? I used the warmer drawer, soaked the serving bowls in hot water, and didn't take the beans or the gravy off the stove until the last possible second. Still, it all cooled down in the time it took to say "buffet line"! This will be the challenge of the rest of my life, I suppose. I don't think my mom every really solved the puzzle either.
A Thanksgiving near disaster - the digital thermometer I stuck in the bird as backup read 170F after only two hours (12 pound bird should take 3+ hours). Since I could SEE the drippings coming off the bird bright red, I wisely ignored the thermometer and waited until the popper popped. Thank goodness it worked (they don't always)!
I finished up Scarborough over the weekend, doing the last sleeve and the collar in a single evening session. Audrey did not like the separated, tunic-style flaps at the hem. She immediately asked why they were cut, and demanded I sew them up. Add that one to the modifications page! If I had known that from the beginning, I could have done the whole darn thing in the round.
Here it is:
And a detail: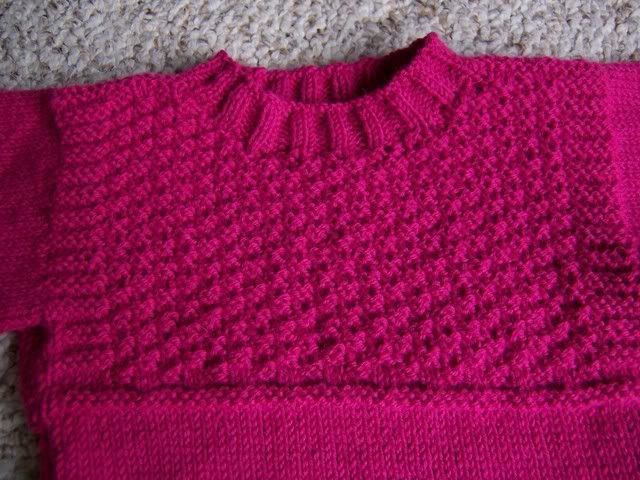 Pattern: Scarborough
Designer: Alice Starmore, in Fishermen's Sweaters
Yarn: Plymouth Encore Worsted
Needles: US8 and US6
Began: Nov. 5, 2007; Finished: Nov. 24, 2007
Pattern modifications: this pattern was written for sportweight yarn. Also, the smallest pattern size was a 26" circumference for a child with a 23" chest. Since Audrey only has a 20.5" chest, this is waaay too much ease. Despite her slender frame, she is actually tall enough, and with long enough arms, to wear the sweater as designed. So I made it narrower, and converted the pattern to worsted weight yarn to speed things up a bit. Don't want her to outgrow it before I finish! As mentioned above, I sewed the border flaps closed at the end.
Minimalist Cardigan
: Seamed in the sleeves last night. Not completely happy with my seaming job. May undo and try again tomorrow.
Up next
: two projects (I know, I said I'd never do that again). For home: the Northern Lights mittens. For work: plain stockinette socks as part of a "Sock DOE". I'll explain later.
Labels: Scarborough