WIP's and a meme
Ten knittery things you didn't know about me. A meme.
I found this on Grumperina's blog.
I used to knit combined style, way back before the internet was around to tell me that this style had a name, and wasn't "wrong".

I was taught continental by my grandmother when I was a child, but when I picked up a pair of needles again in college, I couldn't quite remember how to knit and purl.

I remembered how to do one stitch correctly, but not the other, and all my stitches were twisted.

See my first sweater (100% twisted stitches).

Eventually I figured out how to change the other stitch so I wouldn't have twisted stitches (fully combined knitting now), and I knit happily along until I came to my first lace pattern.

I figured out how to change my yos and k2togs to work, but decided after that project, it was time to buckle down and re-learn regular continental knitting.

Makes following printed patterns SO much easier.
I made my first real lace object this year.

It was a scarf for my mom out of laceweight merino.

Wow that's skinny yarn!

This was pre-blog, so I didn't think to take a photo.
It has been almost exactly a year since I discovered the world of knitting online.

Prior to this, my searches for knitting information always seemed to land me at the LionBrand or similar sites.

Not exactly inspirational.

For some reason, it just didn't occur to me that knitters would be gathering together in cyberspace.

Expectant mothers, yes.

Star Trek fans, sure.

But knitters?

How could such a visual craft translate to words?

I was really amazed when I stumbled on my first knitting blog (wendyknits.net), and thrilled to find the KnittyBoard.
I really, really dislike mohair.

Makes my nose itch.
I made my first socks this year!

Since then, I have also made my second, third, and fourth pairs of socks.

I will take a short sock-knitting break while I wear them this fall and get a sense of how sturdy the four different brands of yarn are.

I enjoy the process of knitting, but I think I fall more in the "product" camp.

I need to see a useful finished object at the end.
I never save my swatches.
I learned how to do Fair Isle color work this year.

The multicolored hats were my first (and second) attempts.

I did them in worsted weight yarn.

I am contemplating a sweater in finer gauge yarn for my daughter next, possibly Oriental Flower by A & J Starmore.

I am also contemplating checking into a padded room with a white huggy jacket.
I prefer working on circular needles, even when working flat, but I prefer dpns to very small circulars for small diameters like sleeves.
It makes me uneasy to have more than one project on the needles at once.

I very much prefer to finish something before starting a new project.

The exception to this is airplane knitting.

If there is a sweater in progress at home, I will happily leave it there in favor of taking along a sock or scarf on a trip.

Efficiency of packing and all that.
So, how about you?
Clippity, cloppity, clappity!
I am 3/7 of the way done with my Clapotis. Here it was this morning: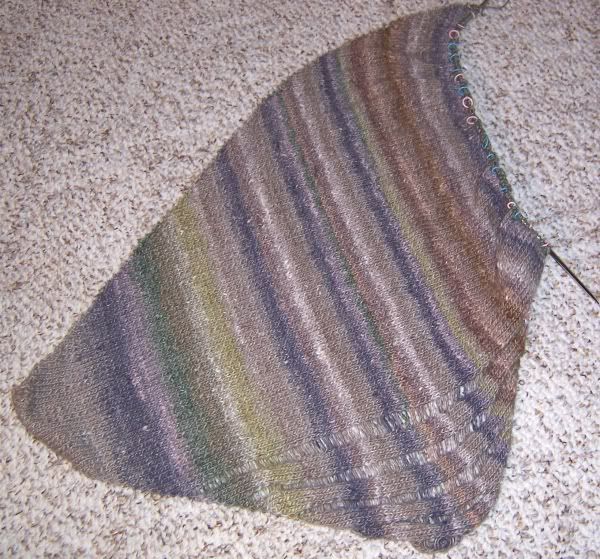 Bee surgery.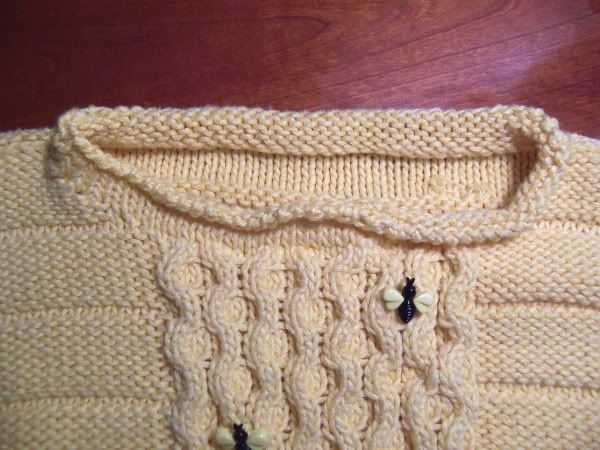 The neckline bindoff on Audrey's Bumblebee sweater, which slid easily over her head last spring, now won't go on without a fight. I unbound the edge, and re-bound using a "stretchy" sock bindoff. At least it is stretchy on socks. It doesn't feel so stretchy on this cotton sweater. The sweater is very wide and the arms quite long compared to Audrey's body, so she could get another season or two out of this if I can make the neck large enough for her noggin.
I got a very good phone call yesterday. I'll tell you all about it when I get it in writing!