Why can't they stay little forever?
No, wait, don't answer that. If they stayed little forever Mommy might lose her mind and do something drastic, like trade her darling woogums in for a cocker spaniel puppy at the mall.
Of course I wouldn't
really
trade my precious little pumpkin muffin in for a puppy. But it makes a good threat when DH comes home from work late and she is
finally
down for a nap after two hours of threats, pleading, begging, and finally resorting to CIO.
But knitting for a two-year old is great! Especially in worsted weight wool. Check this out: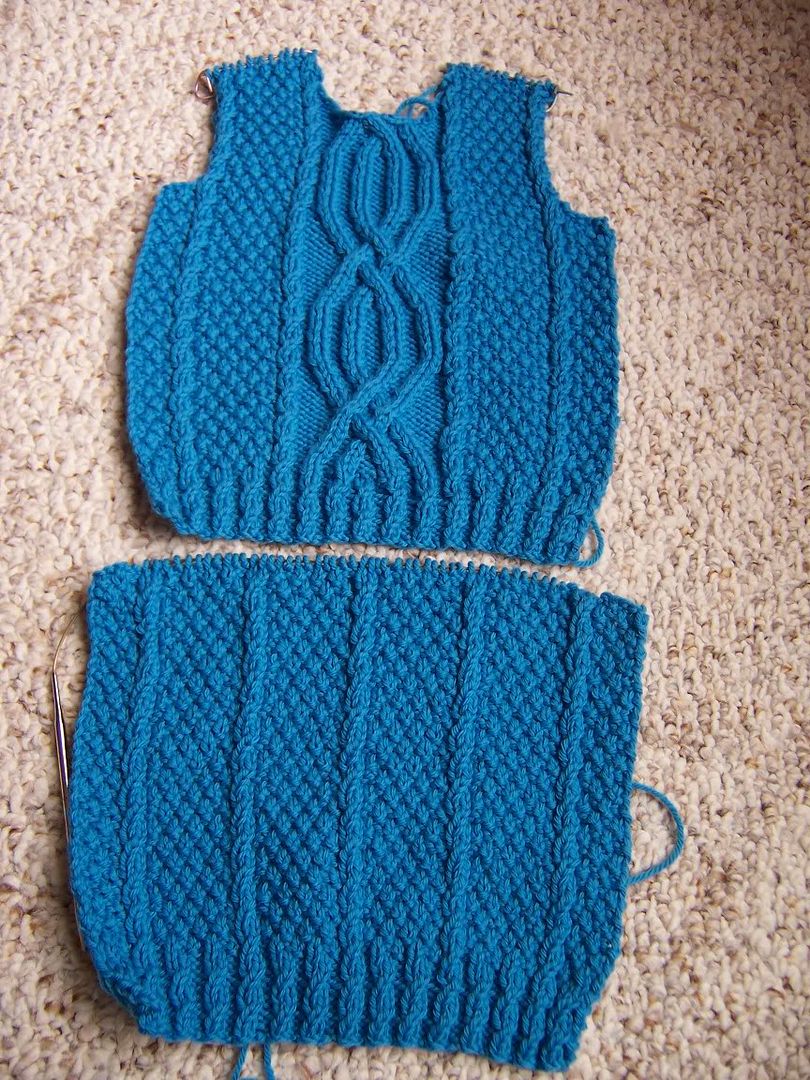 That represents exactly one (one!) week of knitting: Friday night to Friday night. That is the entire front and the back up to the armhole shaping of the sweater I am making for Audrey. I hope hope hope my gauge swatches will not fail me. They have promised me approx. 15% growth in width and 10% growth in length after washing. I will be sorely disappointed if it doesn't grow.
Today (Saturday), I finished the back and used a three-needle bindoff for the shoulders. Arms begin tomorrow.
Small Child Warning
While battling the rain to get the mail this afternoon, I ran into my next door neighbor on his way out the driveway. He stopped the car to ask if I was aware a Small Child Warning had been issued. Unlike a Severe Storm Warning, which means a Severe Storm is on the way, today's warning is more like a Small Craft Warning. Persons in possesion of a Small Craft should protect their Craft (or Small Child) from the weather. Apparently they have measured some wind gusts strong enough to knock a small child off his/her feet. Not a good day to watch the weather from a rooftop for example.
The weather in the Midwest US never ceases to awe me.