The package has arrived!
Woot! My SP sent me a box of goodies! Actually, she sent them quite some time ago. They were last logged in to the Canada Post tracking system on August 5 (!) at the Missisauga Sorting Station. If I remember my last trip through Ontario correctly, Missisauga is a (big) suburb on the west side of Toronto. It's probably a 4.5 - 5 hour drive from my house. From there, I believe the package swam upstream across Lake Ontario, fought its way up Niagara Falls like an itinerant salmon, and halfway across Lake Erie to the Cleveland postal station. Otherwise, I have no idea what it was doing for the last two weeks.
But it was worth the wait - look!
A new novel to read on vacation and a quilting mag (and strawberry scented bubbles for DD) -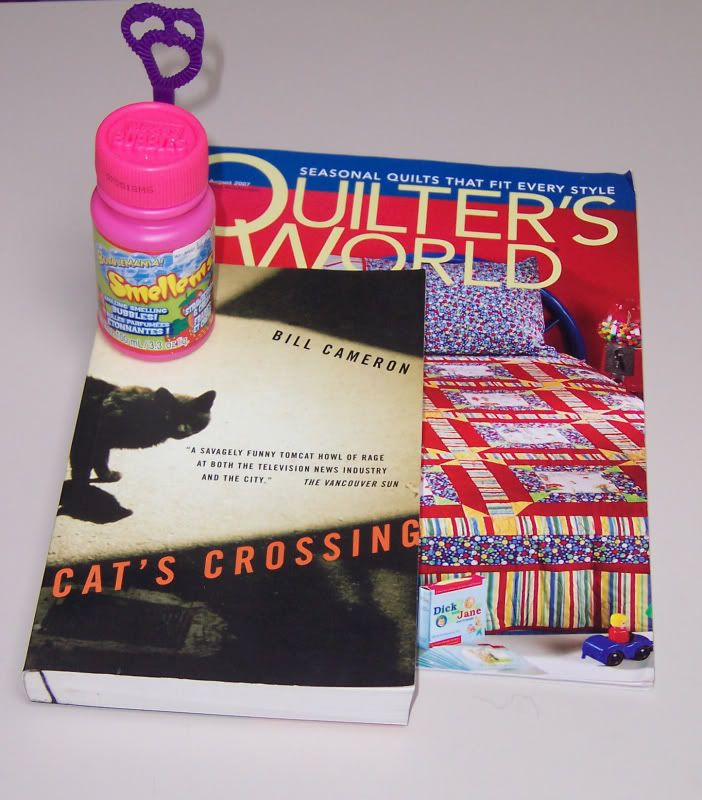 Some sweets to nibble on when reading -
That's arrowroot animal cookies (supposed to be for DH. We'll see ;-0), Campino strawberry and yoghurt candies, and vanilla clodhoppers. Clodhoppers are little bits of graham cracker, coated in a white chocolate coating, and stuck together like a Rice Krispy bar. They taste a little like a Wonka Bar, with a much higher graham: chocolate ratio. Yummm - I've already made a serious dent in the bag.
And last but not least - yarn!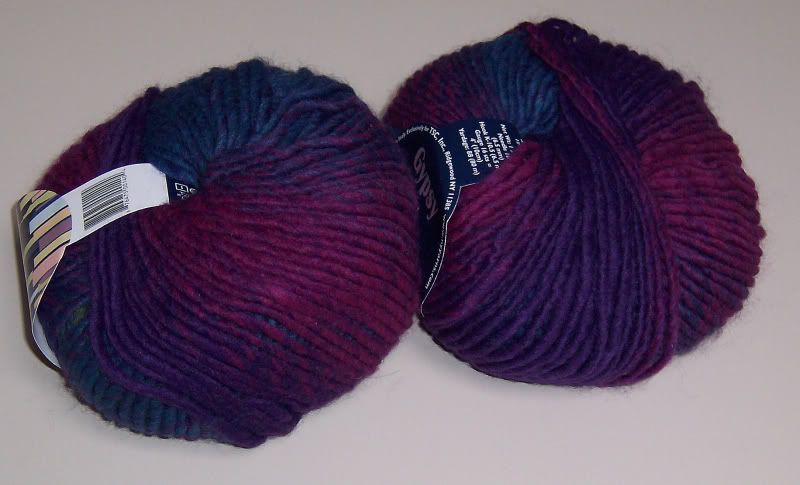 It's Gypsy by NY Yarns, an acrylic wool blend in bulky weight. I think it will make a nice scarf.
I haven't been doing much knitting lately - mostly spinning the last couple of weeks. Photo to come.
Here's the Follow the Leader Shawl, blocking:

I've already brought it in to work, so no modeled shot. I only blocked it a little bit - the finished dimensions would have covered my rear, and I only want something around waist length - it's really to keep my shoulders and arms warm in the A/C.
Here's the Jaywalker socks I'm working on (Brown Sheep Wildfoote in Lilac Desert)-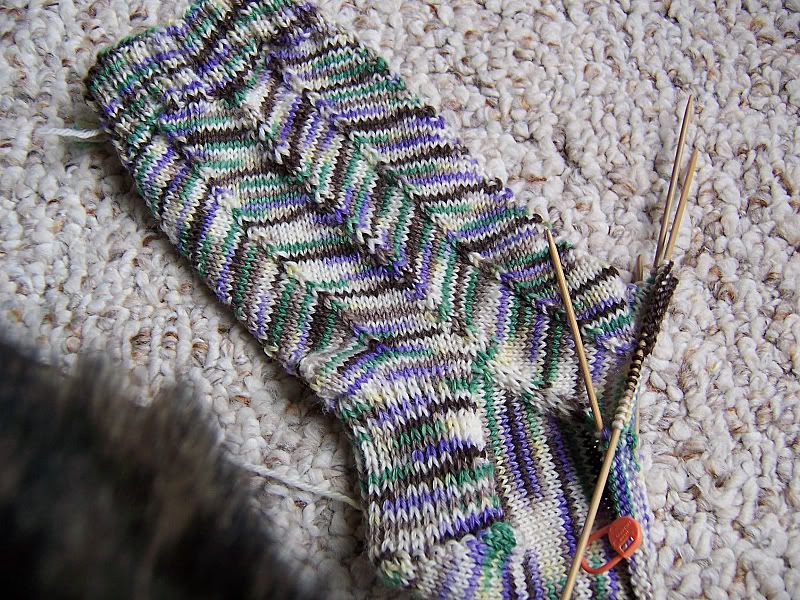 The bit of fuzz in the corner is one of the last photos of Zoey's fur, I'm afraid. Something I realized after she died was that I took very, very few photos of her in the last three years. When I used a film camera (up until three years ago), I almost always used to take a couple of shots of the cat to use up the roll of film so I could send it for developing. There is no end of the roll on a digital camera.
That's all for now. Picked up a lousy head cold sometime this weekend. Spinning photos next time for sure.