September SP package
I just received my last SP package from Sarah R., aka highlanddancemom03 on Knittyboard. She has been a great SP this Fall - I love all the stuff she sent me! This month's theme was "My favorite things", in which she sent me all my favorite things! There is a package of caramel apple kit - just add butter and cream to make the caramel apple sauce, stick in your apples, and cool. I bet this is going to be miles better than the caramel sheets I bought at the store last week. Remember "Wrapples"? Same product, different brand. I haven't seen an authentic box of "Wrapples" in years. Possibly decades. A Toblerone bar (must hide from DH), Lindor truffles (already scarfed up by DH), and sesame candies (inhaled by me while unpacking the rest of the package).
Two books - one by Margaret Atwood (one of my favorite authors), and "At knit's end" by Stephanie Pearl-McPhee (aka Yarn Harlot), and some bookplates to mark my favorite books by.
A little bottle of "Tiber River" hand lotion, which was developed to honor the IIHF World Women's Hockey Championship team. It's winter white and minty.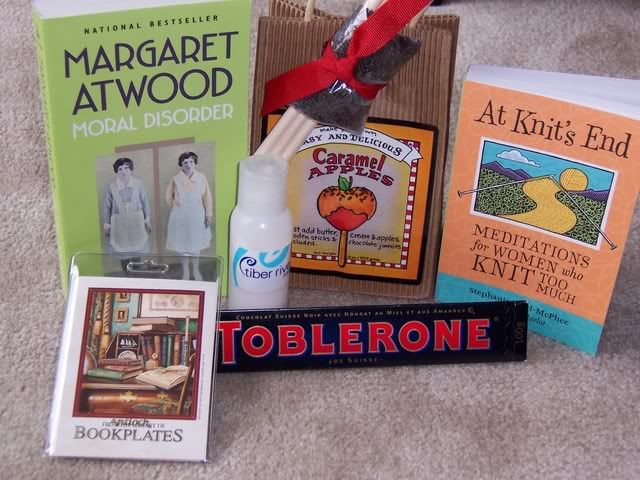 And yarn.... Oh the yarn! 100% baby llama in a deep grape purple color. You cannot believe how soft this yarn is. Possibly even softer than alpaca. I love it. It is from Peru, and called Mirasol Miski.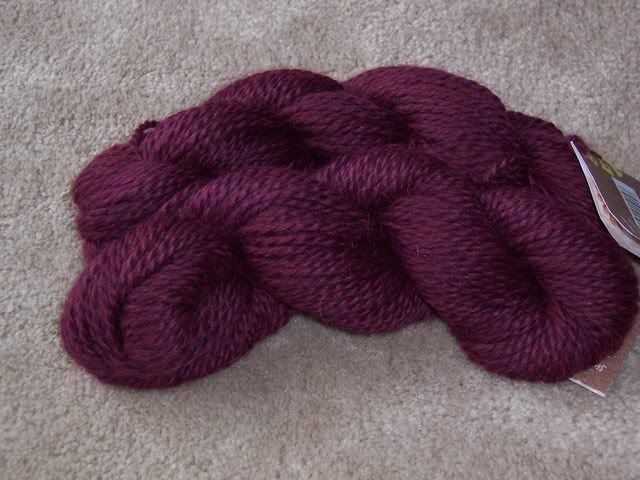 Thanks Sarah!
Knitting Update
(yes, I have been doing something other than accumulating yarn for my stash).
The back and the left side of the Minimalist Cardi are finished, and I am several inches into the right side. I have a heck-lacious business trip coming up next Wednesday - 12 hours in a car with 2 co-workers (6 hours each direction). We leave at dawn and return before midnight (I hope). Except for my shift driving though, I should be able to get some knitting in.
That's all!