Spring has sprung
OK. Stop. Breathe.
Probably going to jinx myself by saying this – but I've got nothing scheduled this week. No trips. No vacations. No off-site day-long meetings. Just a swimming lesson on Thursday night for Audrey (last one for the spring – yay!).
The baby blanket is done. The half-finished vest has been returned to the depths of the knitting bag where it will wait until the weather hints at turning cool again. I've got almost 6 weeks before my daughter's graduation from Kindergarten (teacher gifts needed). Ahhhh. Just sit back and relax.
Baby blanket? Vest? Has it been that long since I posted last? Well, yes. I started the
Honeycomb Vest
in March, thinking it would be a quick knit and a nice office piece for those days when it isn't quite warm enough for short sleeves, but a little too warm for long sleeves. NOT a quick knit. I love the fabric and the yarn (Elizabeth Lavold Silky Wool), but honeycomb is not a fast stitch pattern. I'm done with the back, and the front up to the armholes. It can wait until Fall I think.
And just 4 weeks ago, my friend B. called me with great news. She and her husband were chosen by a birth mother to adopt her baby! She found out only about a week before the birth date – good thing they had the nursery all set up already. I made up a
Serenity
blanket in Green Apple (KnitPicks Shine Sport) for her – it's blocking now. I can't wait to meet baby M.!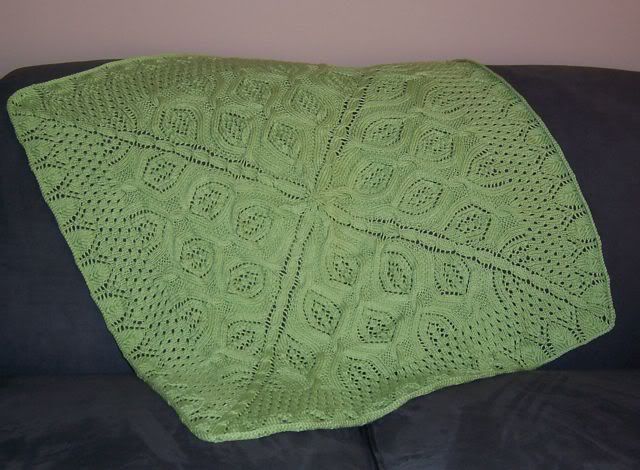 I'm thinking it will be mostly a shawls and socks summer, nothing too elaborate. And spinning. I've been making good progress on last year's fiber purchases, and I'll miss this year's
Great Lakes Fiber Show
, so no new purchases for a little while. The Optima fiber from Christmas is almost done – only about ¼ oz. to spin tonight – I might be able to ply it too. About an ounce of the Romney to go (not loving this fiber, but the colors are great). I bought more BFL in Phoenix over Easter, and an ounce of camel down. That, combined with the bags of angora
Cathy
gifted me this winter, convinced me that it might be a good time to get a support spindle. Maybe that will also do the trick on that soft white slippery wool that's been defying my attempts to spin it on a top-whorl? I ordered an Ann Grout ceramic turnip spindle. (Just love the name, don't you?) I hope it arrives soon!