And then it started raining
We headed out in threatening skies to Dockray in a cab arranged by Mickledore, then hit the trail to Pooley Bridge. After about 10 minutes, the rain started, so we stopped, opened our daypacks, and put on our raingear, then continued on down the trail to Aira Force, a waterfall. The rain let up so we took a few pictures here, then moved on. Then it started again, and didn't let up until we were a few hundred yards away from Pooley Bridge, where we spent the next night. (That pretty much covers the first 5 hours of walking. Rain. Lots of rain. Through pastures, lanes, a small forest, and around the side of a small hill.) In the middle of this cold windy rain I thought - I wish I had fingerless gloves now! That would really be nice.
That night I cast on for
Evangeline
in Mirasol Miski, the softest yarn ever. I modified the length a bit to be inbetween the long and short versions. It's a super quick knit, I finished the first one in two evenings. It's a little snug across the palm for me though; I think I will rework it with a thumb gusset.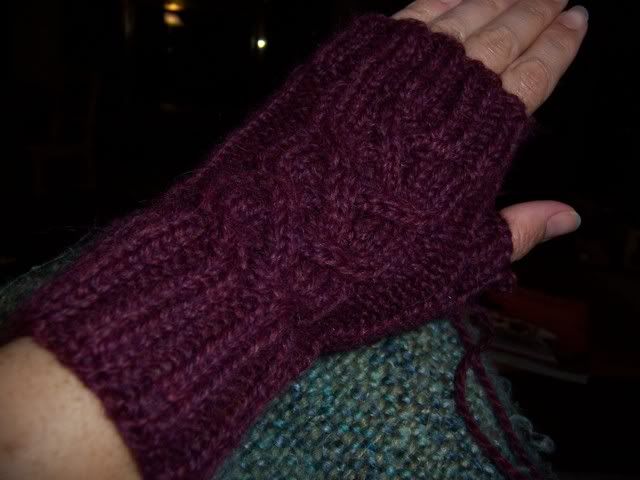 The next day, more rain as we walked from Pooley Bridge to Patterdale. According to the brochure at the B&B,
Crookabeck Angora
's is just up the road, but it's one of those call for an appointment places (working farm), and since goat based yarn makes me itch, I decided not to bother them, knowing that I wouldn't actually buy anything. We also saw Wordsworth's former cottage (now a B&B).
The most astonishing thing on this hike? No matter how high you hike (and I think we went 2000 ft up in elevation today), there is a sheep higher than you. Except at the cairn with the elevation marker. There weren't any sheep on that particular small pile of rocks. But they were nearby, and not breathing nearly as hard as I was.
A proper dinner at a pub - fish and chips (the biggest piece of fried fish I have ever seen), a pint and half of ale, and a good nights sleep. The half-pint of beer, by the way, is the most wonderful thing. I really don't feel so good after two full pints, but sometimes you just want a little more, you know? I wish we had half-glasses here too.