That's a lot of moss stitch
Wow - my hands hurt. 10 days for the back of the Minimalist cardigan - here it is: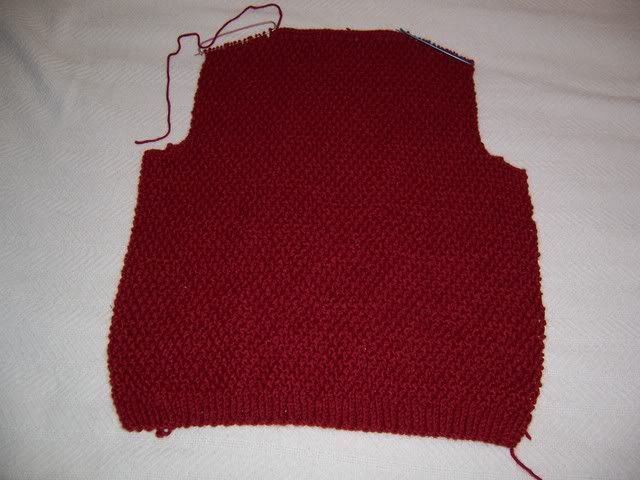 Pattern mods to date: instead of binding off the shoulders "stair step" style, I did short rows (wrap and turn) at the indicated points in the pattern. I'll do a three-needle bind off instead of a shoulder seam. Less bulky that way.
Looks like my gauge was a little loose near the bottom of the sweater - gauge measured just about right closer to the top. Still, only off by a fraction of an stitch/4", so not sure I can really do much about it. My swatching changing needle sizes made full stitch adjustments in the gauge. This is a very stretchy fabric though. I hope it doesn't start to sag when I start wearing it (something a 4" swatch will not tell me). The yarn is Knit Picks Andean Silk. Very nice to work with, very soft.
I learned something new
Last weekend I went shopping for shoes with handknit socks on, determined to find shoes to wear with such socks. After many hopeless attempts to get into my regular size, I asked the salesman (fancy store with salesman instead of my usual el-cheapo self-serve shoe store) to bring me the next size up. He said no, the next size up would be too long, and my heel would be slipping out of the shoes when I walked. What I needed was a wide shoe, to accomodate the bulky socks, and to go a half size DOWN. That's right, an 8.5W is the same length as a 9 regular. In the process of keeping the proportions right when they make a shoe wider, they also make it a little longer. I had no idea. I bought two pairs from him. They are very comfortable, and don't pinch at all with my handknit socks on. I may send him a holiday gift, who knows?
The plant
Woot! Still going strong -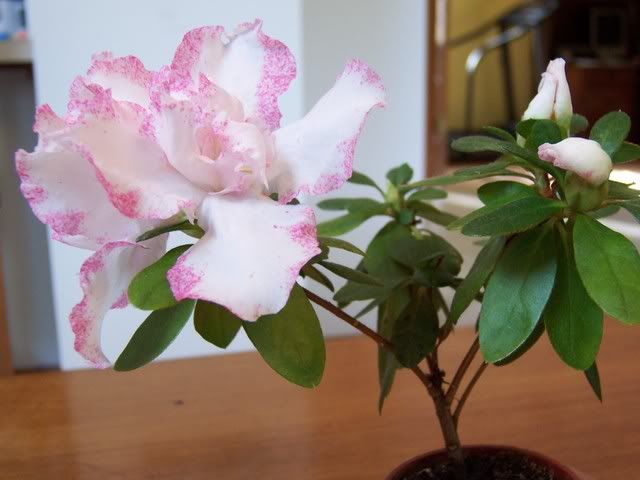 Umm, anybody know what kind of plant this is? I lost the tag it came with.
Looking forward to another unseasonably warm week - I can't believe it's October. It just seems so wrong to be looking at pumpkins already. We just deflated the kiddie pool today.
Well, must get ready for the season premiere of Desparate Housewives - guilty pleasure you know.