The worst thing about Christmas knitting...
I always wrap it up before I remember to photograph it. Phooey. I'll have to wait until Saturday to snap a picture of the
Purl Ridge Scarf
I made for my sister.
Well, here at the ranch we're all ready for Christmas. I think. I realized two days ago we still needed another gift for my Mom, but I took care of that this afternoon. And I'd like to get Audrey some extra hair for her Liv doll, but for some reason, wigs for Liv dolls are not in stock these days. Which makes no sense. I can understand a main toy being perpetually out of stock, like the great hamster hunt of 2009 (
Zhu-zhu pets
, for those without kids), but the accessories? Really? Oh well.
I've been knitting frantically - my new niece was born yesterday afternoon! The blanket was finished a good week ahead of time and mailed in time to arrive a couple days before the baby.
It's my own design, the Knitted Starghan, modified to be mostly stockinette, with a few contrast bands in garter stitch.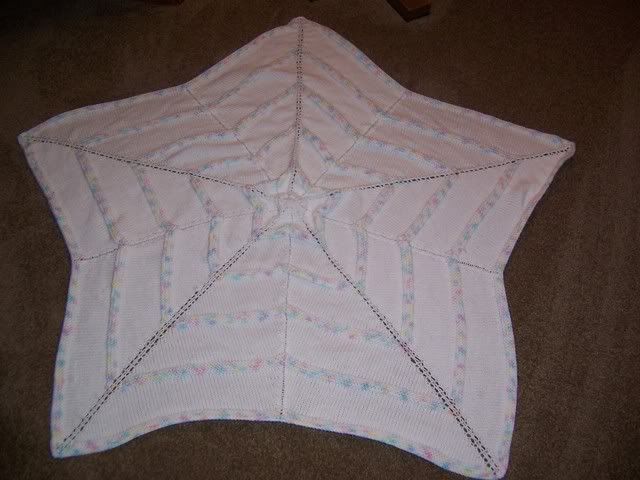 Pattern:
Knitted Starghan
Designer: Me!
Yarn: Plymouth Dreambaby DK, in white and pastel
Needles: US6
Time to Complete: about 3 weeks
Christmas Cards - Love 'em? Hate 'em?

They both fill my heart with gladness and simultaneously give me panic attacks.
Ever since Audrey was born, I've felt an obligation to send out photo holiday cards to a wagon-load of people I barely know (hubby's relatives) and only talk to at weddings and funerals. I'm up to about 40 cards per year, that need to be signed, dated, stamped, and a little letter written on the back. (If you live in the 440, 216, or 330 area codes and did not get a card from me, do not be offended. I send almost no cards locally.)

A few years ago, I noticed that other people were not sending a note on their cards, only signing them. And then the signers morphed into having their names just printed onto the card. Just stuff it into an envelope and go! So I started doing the same, especially for the people I don't talk to from one year to the next. And I get increasingly annoyed at the whole process.

But there's a new movement out there - the hand crafted card. Two of our more artistically inclined friends have sent ornament cards! With die-cut photos of their kids. OMG this raises holiday cards to another level. Can I cut out the relatives entirely, so as to have more time to craft cards to my friends? Is the 4 x 8" photo card becoming entirely passe? Do I really need to buy a Cricut machine? Ack!!!! The pressure!

But, the tree is trimmed, the stockings hung, the cookies baked. And I think we're ready for Christmas (this year).

Happy Holidays and a Merry New Year everyone!